This past weekend, LifeWise Ambassador Navin Singh participated in the Ironman Cozumel triathlon – with partial paralysis in his legs. Here is Navin's incredible journey to become an Ironman, and how he hopes to inspire others.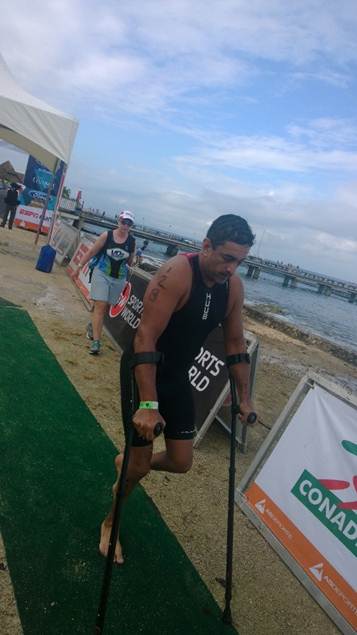 At the age of 18, Navin woke up one morning unable to move. Soon after, he was diagnosed with Guillain-Barre Syndrome – a disorder that causes the body's immune system to attack part of the peripheral nervous system. It left Navin paralyzed from the neck down. Instead of giving up, Navin fought through the hardship. Decades of aggressive physical therapy helped him regain mobility and the use of his muscles. Navin imagined that he was training for a sport or event, focused on getting better, and never gave up.
After years of hard work, Navin accomplished his dream of becoming an Ironman, even with partial paralysis in his legs. "It really starts with a belief. A belief that you can do it. Just starting that race [was] a victory for me," Navin says. The triathlon  consisted of a 2.4 mile swim, a 112 mile bike ride and a 26.2 mile run – a total of 140.6 miles. Navin finished the race in 16 hours and 58 minutes, just two minutes under the 17-hour time limit. Not only did Navin fulfill his dream of being an Ironman, he also fulfilled a second dream of giving others hope with his story.
Check out more of Navin's inspirational story in the video below.