The COVID-19 crisis has some animal shelters and rescues struggling to care for pets. So, in this period of working and self-isolating at home, what better time to foster a dog or cat? You'll be helping the community and bringing joy to your home.
If you've been considering adopting a pet, or just want to test the waters by fostering, this time is a great opportunity to welcome a pet. You can get a goldendoodle puppy for sale near your location or online pet store, that is if you have decided to adopt a pet. Else, fostering can be a good option for people who wants to try being a pet parent for a while before making a decision. Fostering allows pets to get out of the frightening and stressful conditions of a shelter and into a peaceful home environment. It also helps free up space so the shelter can help more homeless animals.
If you live alone, a pet can provide much-needed companionship and comfort. Having a canine confidant may get you moving more since you'll be taking your pup out for a walk, and having a kitty companion snuggling in your lap can be a great comfort, especially in this time of uncertainty. Just make sure that you have a good vacuum cleaner like a Riccar r25p or something similar, to clean up all pet fluff that will definitely be floating around!
Since the beginning of this period of social distancing, animal shelters across the country have reported a huge increase in adoptions and fostering.
Brandon Macz of Seattle Humane said prior to closing to the public on March 7, they were able to get 150 animals into foster homes.
"Our foster parents have been able to document how these cats, dogs, and even some guinea pigs behave in their homes, so we have a lot more information to share with prospective adopters," said Macz.
Macz said Seattle Humane has begun a new adoption-by-appointment process to begin reviewing submissions and advising potential adopters.
"We are still assessing the safest protocols for the final process of bringing shelter animals and prospective adopters together to meet and go home," said Macz. "We had 34 holds on pets the first two days, and we are working with our foster families to update pet profiles to include as much information possible to help people make informed decisions regarding which pet(s) they would like to join their family."
Erika Walker, a longtime Seattle Humane foster "mom," is currently caring for a mother cat and her kittens.
"I worked from home even before (COVID-19) and I have a flexible schedule," she said. "The kittens can grow up in my office. I usually have kittens at my feet or sleeping behind me."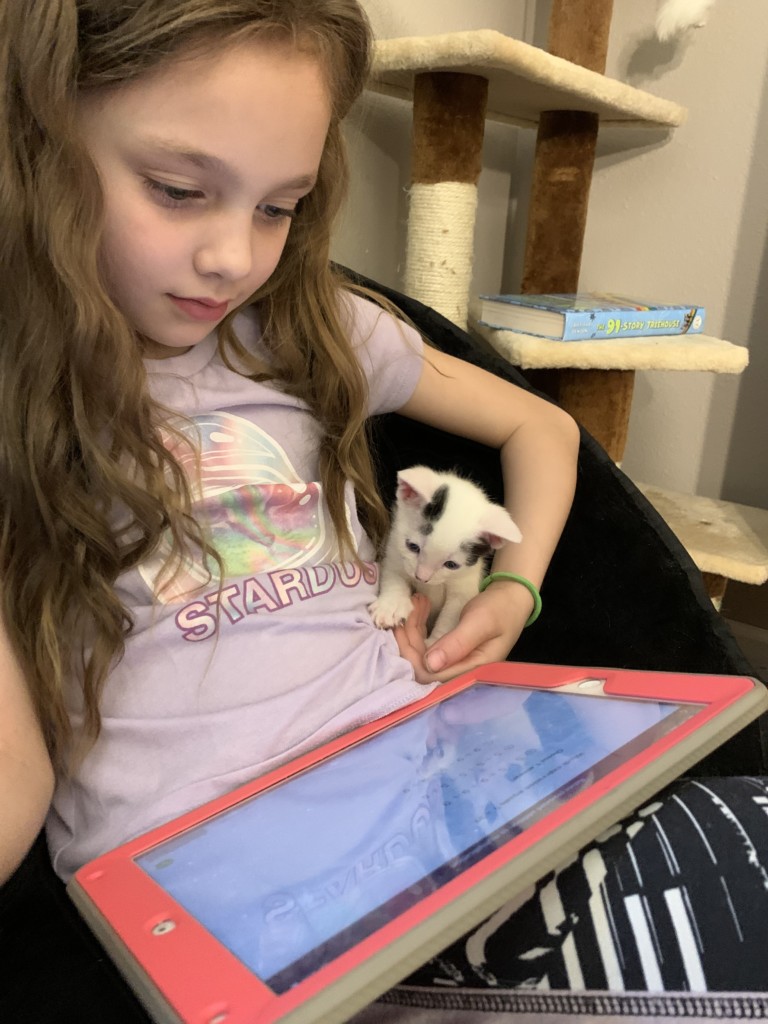 Walker's 10-year-old son and 8-year-old daughter Brylie are helping care for the kittens, and the tiny felines have become part of the homeschooling routine for the children.
"My daughter will read to the kittens, which keeps the kittens entertained, and she gets her schoolwork done as well," said Walker. "It helps encourage her to do more schoolwork if she gets to do it with kittens."
Some rescues and shelters are strictly foster-based and do not have a physical location. Casa Dog, headquartered in Puyallup, has fosters from Seattle to Olympia.
Bobbi Schmidt says her organization is always in need of foster families.
"I think that people will see how amazing it is and hopefully continue after (social isolation)," she said.
A national program created by GreaterGood.org called #StayHomeAndFoster is working to help lessen the immediate crisis faced by homeless pets. Fosters are needed for dogs and cats nationwide for two to six weeks.
Potential foster parents can visit StayHomeAndFoster.org to obtain more information, fill out a form and get connected to a local shelter. Many of the animal shelters offer foster pet delivery or low contact pet pick up.
Another resource is Petfinder, a directory of nearly 11,000 animal shelters and adoption organizations across the U.S.
Fostering is easier than you may think. The shelter handles medical care and may provide food and equipment such as leashes, carriers and bowls. You provide training, socialization, exercise, and of course, love and care.
When removed from a shelter and brought into a loving home, dogs and cats can be themselves and their true personalities shine. This makes it easier to match them with suitable adoptive homes.
Some people shy away from fostering because they're afraid it would be too difficult to let the pet go. But there's joy in helping a dog or cat heal from wounds, whether it be physical or emotional, and seeing the animal find a perfect forever home.
"It's rewarding to see them grow and become healthy and then see them get ready for their homes," said Walker.
And if you fall in love with your foster dog or cat, your temporary home may just become their forever home.
Images used with permission from Courtney Kuehn and Erika Walker
Coping With Loneliness As We Continue to Physically Distance