Living LifeWise is a regular column provided by LifeWise Ambassadors – LifeWise employees whose healthy choices are helping them live better lives. Today's column is provided by LifeWise Ambassador Amy Fleckenstein.
"There's no crying in gardening." I must have said this 18 times during my family's recent gardening adventure. In reality, I'm not sure if I was directing this guidance toward myself or my kids.

Gardening with kids is a tricky business. When done right, it can be a fun and rewarding experience. It's also a great way to teach kids to appreciate where food comes from and the fun of eating fresh, healthy fruits and vegetables. These are all great lessons from a parent's perspective, but all my four-year-old really wants to know is when she can eat the broccoli we just planted.
Before I had kids, gardening was something I did to relax. It was a peaceful and serene activity that I enjoyed doing by myself or with my husband. After having kids, I couldn't wait for them to be old enough to join us in the garden. But I quickly learned that gardening with kids takes a different mindset and, naturally, a little creativity.
Here are a few ideas to help you embark on a gardening adventure with your own kids.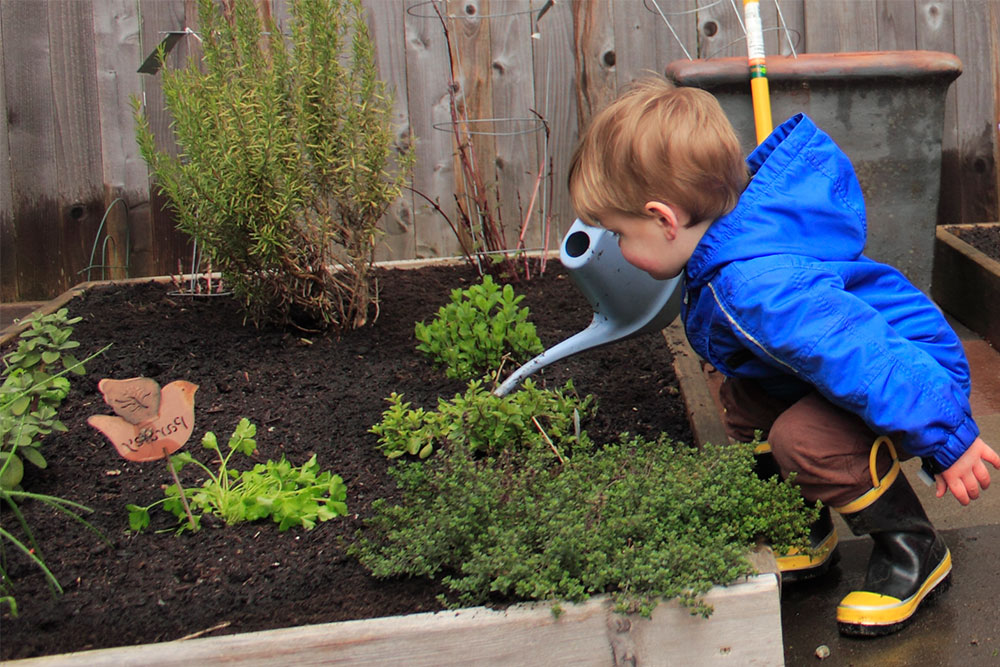 Plant the seeds
Leading up to planting day, my daughter and I had several conversations about our garden – a good opportunity to talk about how and where things grow. We both agree bananas might be difficult to plant, so we decided on lettuce, beets, broccoli, zucchini and spinach. She gets excited and draws pictures of the way her garden will look. Getting kids excited ahead of time helps keep them motivated when it's time to get down and dirty.


TAKE A Field Trip
My kids love to visit the nursery. I like to think they love the wonderful smells, the beautiful flowers and the vast array of vegetable plants, trees and shrubs. In reality, they love to play hide-and-seek underneath all of the tables. My husband and I quickly grab what we need and spend the next 10 minutes chasing down the hide-and-seekers. With plants and children in hand, we leave the nursery relatively unscathed. Usually.
Get Down, DIRTY and Be Patient
We get home and hit the backyard, ready to plant! We get the gardening tools out and my daughter helps mix the new soil in. My 2-year-old son likes to help as well, but it quickly turns into a game of 'how high can I launch this dirt with my shovel?' Eventually, Charlie gets escorted off to the sandbox and we start to plant.
We dig our shallow trenches and start laying in the lettuce seeds and plants. For about 5 minutes I have a very enthusiastic helper. After that, the allure of gardening has past and she is done with planting and ready to move onto watering. Unfortunately, we still have a long way to go. My husband distracts the kids with the sandbox and allows them to water the already-planted herb bed while I hurry to get the rest of the garden planted.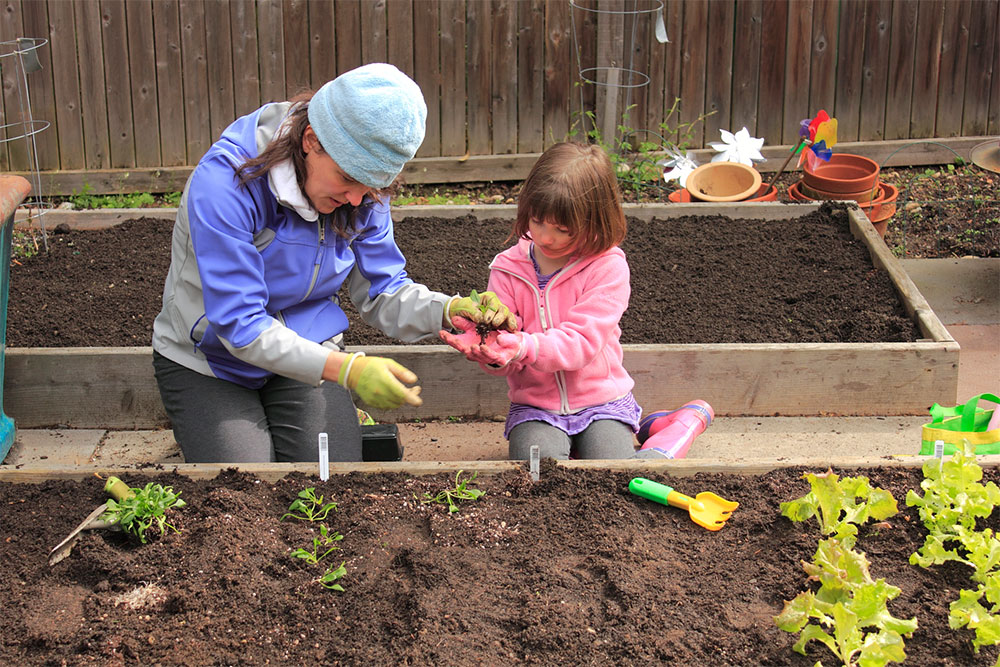 Don't Forget the Snacks
The key to any successful kid adventure always involves snacks. Picture this: the kids are covered in dirt, wet and cold from watering the garden, and ready to move on to a new activity. Insert snacks. This keeps them occupied for at least another 5 to 10 minutes while we quickly finish up the project.
Embrace the Chaos
Gardening is definitely different now that my kids are involved. The process is more complicated than it used to be, but the good news is that the end product is ten times more rewarding. Not only do I get a garden full of fresh vegetables, I get two kids who are excited to maintain the garden, watch it grow, and in the end, to enjoy the harvest.
My kids don't eat vegetables because they are healthy; they eat them because that's what they know.
Having a garden in our backyard is just a visual reminder that vegetables are a part of our life, and it adds an element of fun when the kids get to pull a head of lettuce out, shake the dirt off and get it washed and ready for dinner. They are much better helpers when dirt is involved.
recipe to try: Spinach Cupcakes
Last year my daughter was so excited by the abundance of spinach and greens growing in our garden that she decided to invent Spinach Cupcakes – now a birthday party staple in our house.
Serving Size: 48 cupcakes (can be easily cut in half)
Ingredients:
2 cups sifted flour (1 cup all-purpose and 1 cup whole wheat or white whole wheat)
1 cup sugar
2 teaspoons cinnamon
2 teaspoons soda
1/4 teaspoon salt
1 cup grated raw carrots
2 cups finely chopped raw spinach
4 eggs
1/2 cup vegetable oil
3/4 cup applesauce
Frosting:
8 ounces cream cheese
2 tablespoons butter
2 teaspoons vanilla
1/2 to 1 cup powdered sugar (more to taste)
Directions:
Preheat your oven to 350 degrees. Mix the dry ingredients and set aside. Mix oil, applesauce, carrots and spinach, then combine the wet and dry ingredients. Add one egg at a time to the mixture and beat well after each egg. Pour the batter into greased or lined muffin tins. Fill them about 3/4 of the way to the top and bake them for about 12 to 15 minutes, or until the tops spring back when you touch them. (For a sheet cake, bake for 50 minutes in a 9×13 inch pan). Let cool completely. Beat cream cheese, butter and vanilla until creamy, then add the powdered sugar. Spread frosting over cooled cupcakes or cake. Refrigerate and eat cold for the best taste!
_______________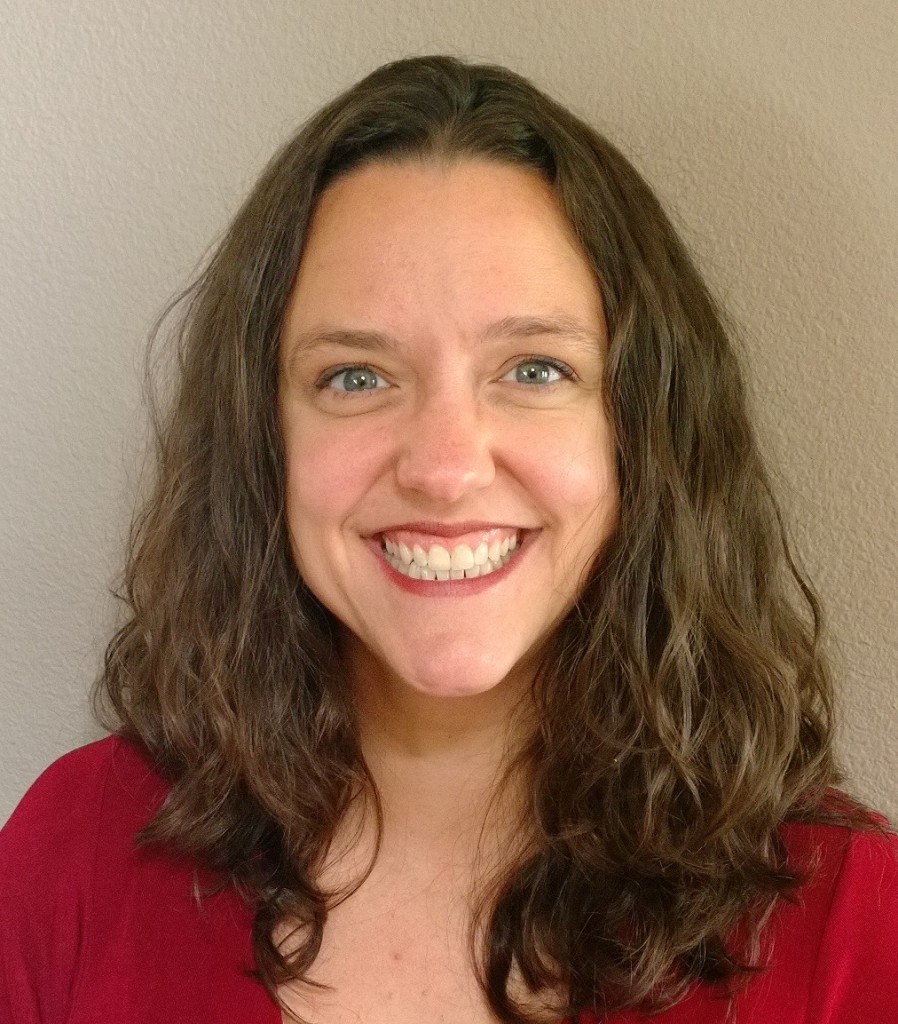 Amy Fleckenstein is a wife, mom, employee, daughter, sister, friend, who moonlights as a referee and counselor to family and friends. Her quest is to find the magic health/life combination where a tofu, veggie stir-fry and a 5-mile run can coexist with a bacon cheeseburger and a lazy afternoon watching football.