Our Health in Action series profiles people in the community who are living Actively Northwest. Follow along each week as we profile new people who are committed to living active, healthy lives through fitness and food. 


A stressful job as a TV News producer landed Jenniferlyn Chiemingo on a mat in a yoga studio. Her mom practiced yoga in the 1970s and convinced Jenniferlyn (most know her as "JL") to try at least three classes. It wasn't until the third class that she realized her love for yoga – so much so that she decided to make it her profession.
JL's goal for every one of her students is to feel better when they leave class than they did when they arrived. 12 years later, she has built a strong community of yoga lovers in the Seattle area.
Actively Northwest talked to JL about living in the Northwest, her teaching style and the health benefits of yoga.
ANW: What brought you to the Northwest?
JL: I'm originally from Massachusetts and went to college in Boston, but my former job as a TV news producer moved me all over the country. After living in San Francisco for five years, I wanted to shift gears and become a yoga teacher. When my husband landed a job in Seattle, we felt it was a great choice for raising a family and starting my yoga career. Now we can't imagine living anywhere else. The Pacific Northwest has everything – mountains, water, greenery, and one of the best yoga communities in the world!
ANW: You've built quite the community of Seattle yogis around your teaching practice. What about your teaching style do you think draws people in? 
JL: I try to be as approachable as possible. I was one of the first people in the city to offer a modern music playlist, one you can sing along to. And when I speak in class I try to inspire from a place of authenticity. I really try to make yogic philosophy applicable to real life situations.
I genuinely love and connect deeply with almost all of my students. Many have followed me from studio to studio and are now annual members at my home on top of Seattle's Queen Anne hill: hauteyoga Queen Anne.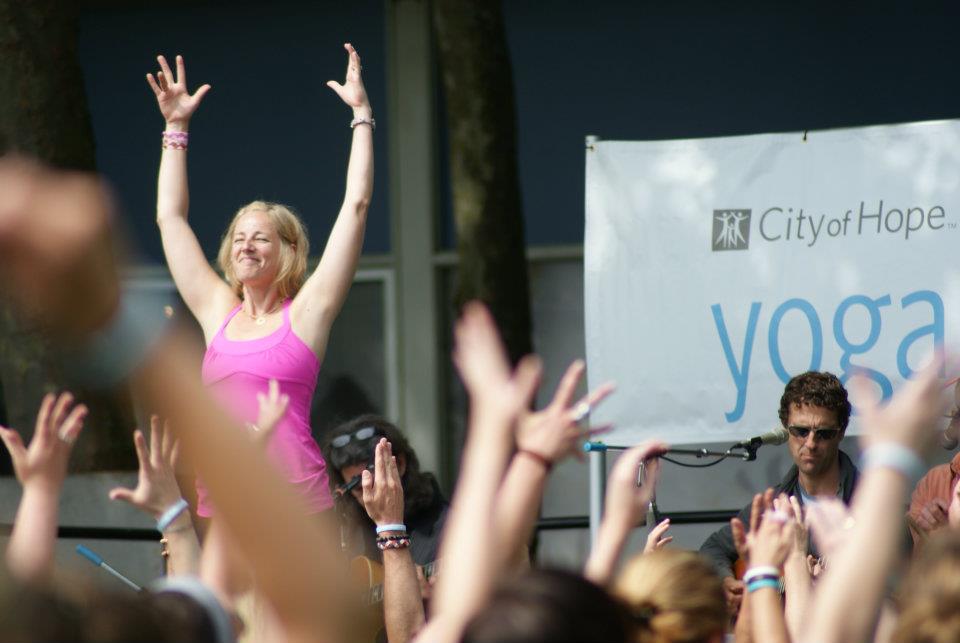 ANW: Let's get to it. What is hot yoga and how does it differ from a regular yoga practice?
JL: It's funny; I haven't always been a fan of hot yoga, but now I cannot imagine life without it. I teach at about 95 degrees – a temperature that helps loosen muscles, build stamina and increase cardio strength. It just feels good, especially during the Northwest's rainy months.
A recent study measured the strength of athletes who followed the same training regimen, but had group train in heat and the other group out of heat. Doctors overwhelmingly found those that trained in the heat were more fit overall. It does take some conditioning though. I suggest not making any judgments until trying hot yoga three times within a 10 day period.
ANW: What are some of the health benefits you enjoy from yoga?
JL: Okay, this could take a while. I enjoy increased flexibility, increased strength and increased lung capacity. I also experience decreased stress levels and less susceptibility to stress-related illness. The list goes on –  increased awareness, support and community.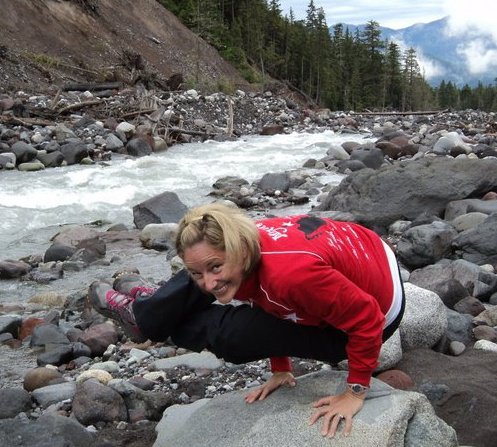 ANW: Do you have any yoga tips for beginners?
JL: Give it a chance! Don't give up if you have a bad first teacher or class. There are so many variations of  yoga that I truly believe there is a style for everyone. Come into a practice with an open mind and heart. Don't judge yourself, the other practitioners or the teacher. Bring clothes that fit (and are not too big), water, a mat, and in hot yoga, a towel.
ANW: What is your favorite yoga sequence?
JL: I love all Sun Salutations, but I especially love Dancing Warrior 1008. This is a sequence I learned from one of my teachers, Shiva Rea. It includes a lot of heart opening, but also a wonderful flow of side plank and twisted side plank. I could (and do) practice this sequence every day.
________
If you want to give hot yoga a try, check out hauteyoga Queen Anne's two-week unlimited new student special. For Jenniferlyn Chiemingo's teaching schedule, visit her website or visit her Facebook page.
Photos courtesy of lululemon athletica and Ben Sandall.