Our Health in Action series profiles people in the community who are living Actively Northwest. Follow along each week as we profile new people who are committed to living active, healthy lives through fitness and food.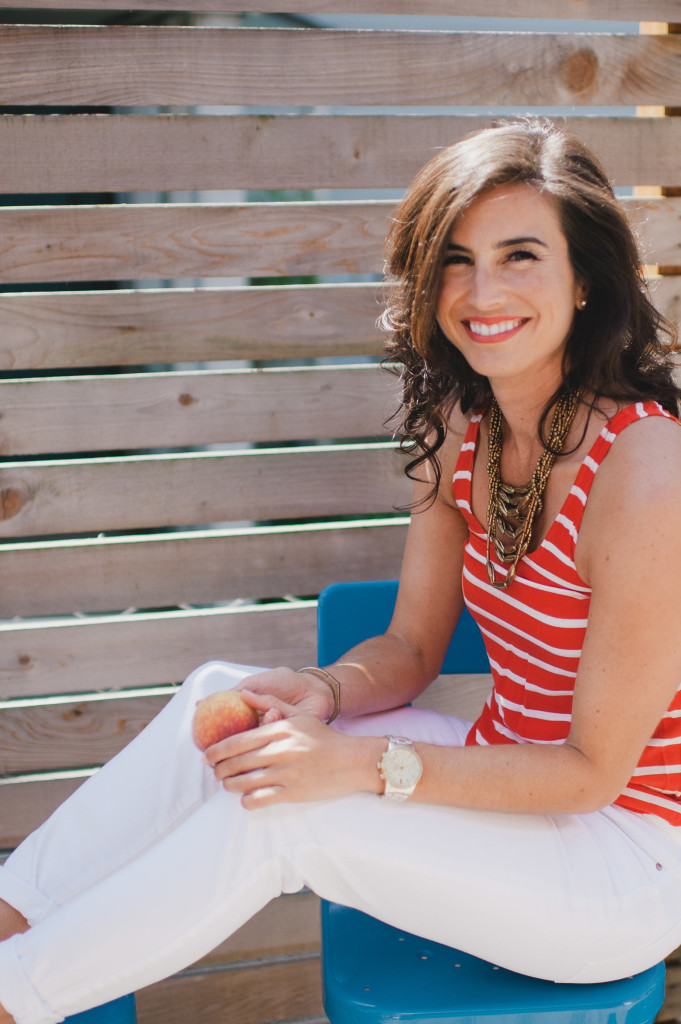 Two years ago Sarah Adler had a dream: to make healthy food less confusing, less overwhelming and a lot more fun to eat. Soon after, Simply Real Health was born with a mission to make healthy eating simple.
Through her "real food" philosophy, Sarah teaches people how to live healthy daily lifestyles with custom food programs, seasonal meal plans, hands-on food education and fun food events.
Who knew the key to a happier, more fulfilling life started with healthy eating? Follow along as we talk with Sarah about real food, eating fads and simple ways to live healthier – and better.
ANW: What does healthy eating mean to you?
Sarah: To me, it means eating real food. Pure food. Normal food. Foodie food. It's food that has flavor, freshness and beauty naturally.
More importantly, healthy eating means having a good, happy and joyful relationship with food, instead of a negative, calculating and guilt-inducing one. That's the real kicker for most people, plus knowing what "real food" actually is versus what they are taught or marketed to believe.
ANW: Why did you decide to start your business and blog?
Sarah: To help people understand what healthy food actually is (It's way different than most people think!) and to show people how to upgrade their health in ways that work in the context of real life.
So many people see healthy eating in two extremes – they are either being "good" and "following the rules" of whatever diet or fad they are ensuing, or being "bad" and eating and drinking whatever they want. People usually swing between the two, which adds a lot of guilt and negativity to their relationship with food.
My goal is to help people figure out the gray area – what it means to live a healthy lifestyle every day by being more aware, not extreme, and then showing ways to navigate the real world, not avoid it. I want people to understand how to be healthy no matter where they are in life.
ANW: What is your favorite part about sharing advice with the Simply Real Health community?
Sarah: I love seeing those light bulb moments for people, like when someone realizes how freeing it is to think about the concept of eating real food. It frees their time, their decisions at the store, and their daily mental capacity, too. Even better is when I hear people comment on how different they feel by making the connection to how food has a direct and immediate impact on their sleep, mood, energy, productivity, and the ability to handle life's ebbs and flows with more ease. 
ANW: What is the number one tip you like to share?
Sarah: Think less about the rules you think you know about food (like the promises on the packaging and calories) and more about actual ingredients. What is it that you're eating? It doesn't matter what the package says you're eating – that part is all marketing and usually gets the best of us. Can you pronounce the ingredients? Could a little kid? Those are the cornerstones of real-food living. Starting to become aware of what is in your food (even if you still decide to eat it) is one of the best things that anyone can do!


ANW:  What is your favorite cheat food? Have you found a way to healthify it?
Sarah: I actually hate the word "cheat" when it has anything to do with food. For almost anything out there someone would crave, there is usually a real food version of it. If you want a chocolate peanut butter cup, for example, I'd say to have a piece of real dark chocolate dipped in real peanut butter with a little bit of sea salt.
If you want pizza, have one that has a three-ingredient homemade (or restaurant made) crust, rather than frozen pizza or delivery. The guilt with food vanishes quickly when you become more aware of what you're eating.
My own favorite little joys are wine and cocktails out with friends, really great dark chocolate, organic tortilla chips and guacamole, and a good lamb burger with fries. All of those things are real food in my book and are not cheating in any way. I don't have any of those things daily, but when I do, I love every second. No guilt. No shame. No sick feeling after. It's about ingredient quality over quantity and frequency.
ANW: Are there any food fads you love right now? Are there any that you want to debunk?
Sarah: I love how people are more interested in being healthy. It's a noticeable change in the last year or so, like it's a cool thing to do now. As for certain trends, I love the green juice and green smoothie trend, and I hope it sticks around. Everyone needs help eating more green veggies, and a green smoothie or juice makes it sexy to do so.
My least favorite trend? The hCG diet. Anytime you mess with your hormones, it's bad news. Seriously. It's scary to me that people use the hCG to lose weight and don't think about the longer term impacts. I guess that's the real challenge though – to get people to stop being so extreme and start being more intentional with what they are doing and choosing to eat daily.
ANW: Besides eating real foods, what else do you do to live a healthy lifestyle?
Sarah: Food is 95 percent of it, really. When you eat well you have more energy, you sleep better, you're happier, and you're just on your game. It also makes things like working out and drinking water come easier. If you start on the food piece, a lot of other healthy lifestyle habits tend to fall into place.
I work out daily (or almost daily) at Fly Fitness Studio in Kirkland, Wash. Not to burn calories or because I'm afraid what would happen if I stopped, but to center myself, circulate my blood, challenge myself and feel more alive and grateful for my body. I love spin, yoga, TRX, and boot camp classes the most. Getting a variety is really important for me.
I also take time to tune into my mental space. It sounds "hippie-dippie," but it's honestly one of the best things I've made into a non-negotiable for myself. I've been meditating for a few years now for five minutes every morning, and it always helps me be more present throughout my day.
Other things I do, healthy lifestyle-wise: take a vacation every two to three months, hang out with girlfriends at least once a week, go out to eat, drink wine, eat chocolate, get outside whenever possible, read books that challenge me mentally, and have quality time with my man, family and friends that inspire me, lift me up and help me grow. All of these things impact my enjoyment of life, so they are all healthy – and important!
To learn more about Sarah and her real food philosophy, check out Simply Real Health on Facebook, Twitter and Pinterest, or visit her website at www.simplyrealhealth.com.
Photos Courtesy of Carina Skrobecki.