Our Health in Action series profiles people in the community who are living Actively Northwest. Follow along each week as we profile new people who are committed to living active, healthy lives through fitness and food. 
Want to see the more adventurous side of the Pacific Northwest but aren't sure where to start? Seattle Backpackers Magazine (SBM) is a great resource for transplants and natives alike to get inspired and be part of an outdoor movement. Since its start in 2010, SBM has grown into a large community of enthusiasts with interests ranging from backcountry skiing to rock climbing, day hiking and trail running.
Erika Klimecky co-founded SBM with Cameron Ownbey after they realized how many people in the Seattle area were hungry for information and tips about backpacking and hiking.
"We wanted to build a hub for backpackers to come to for their planning, questions and needs," says Erika.
ANW recently spoke with Erika about her hiking adventures in the Northwest and around the world, outdoor photography and getting active with the family.
ANW: You're originally from Minnesota. What made you decide to move to the Northwest?
Erika: My husband and I were looking for a high-tech city and moved here during the dot-com bubble. Once we saw the Northwest landscape – the mountains and water – we didn't wait for jobs. We packed up the Ryder truck and our savings, and drove out before either of us was employed. The Northwest also offered the potential for me to use my degree in fine art photography and explore outdoor camerawork.


ANW: Your greatest physical accomplishment to date was hiking to Mt. Everest Base Camp. How did you train for the intense journey? 
Erika: I climbed up to Mt Rainier's Base Camp (Camp Muir) about a month before I left for Nepal to get acclimated to high altitudes. To build leg strength, I ran up the steepest hills in my neighborhood during my 2 to 3 mile runs and also incorporated stair climbing. And of course, I made time for long hikes. An average day on the Everest Highway is about six to ten hours of hiking, so there is no way that even a daily hour workout will prepare you for the long road ahead. Weekend backpacking is the perfect warm-up for a Himalayan trek.
ANW: Did living in the Northwest give you any advantages in preparing for such a challenging hike?
Erika: Absolutely. The main factor in hiking at elevation is the thin air. Whenever you can get to elevation, your body acclimates to the thinner air and allows for a better chance at success without altitude sickness. Although we live at sea level in Seattle, we have nearby elevation that is easy to access.


ANW: What is your all-time favorite Northwest hike? Any top picks for winter?
Erika: I can't pick one favorite. There are different hikes for different reasons. Conditions make all the difference, too. My favorite day hikes are probably Heather Lake, Lake 22 and the Pilchuck Lookout, all on Mount Pilchuck. I also love chugging up Mt. Si on a Saturday morning before the world gets going. My favorite backpacking area is between Rainy Pass and the other side of Washington Pass – the North Cascades are so pretty and wild.
The most fun I've had on a winter hike is Guye Peak with snowshoes in two feet of powder. At the end you feel so proud of yourself for sitting on the top of this tiny tip of a peak. You look down and way at the bottom is Alpental, full of miniature skiers.
ANW: Any tips for someone who wants to start hiking?
Erika: It comes down to safety, ability level and gear. The most important thing is to pick a trail that suits your comfort level with respect to safety and ability. If you are miserable half way up the trail because you chose one that's too steep or too long, you're less likely to do it again. It's supposed to be fun, right? The next most important thing is to do it again and again. It might be next summer, but you'll get there if you keep at it.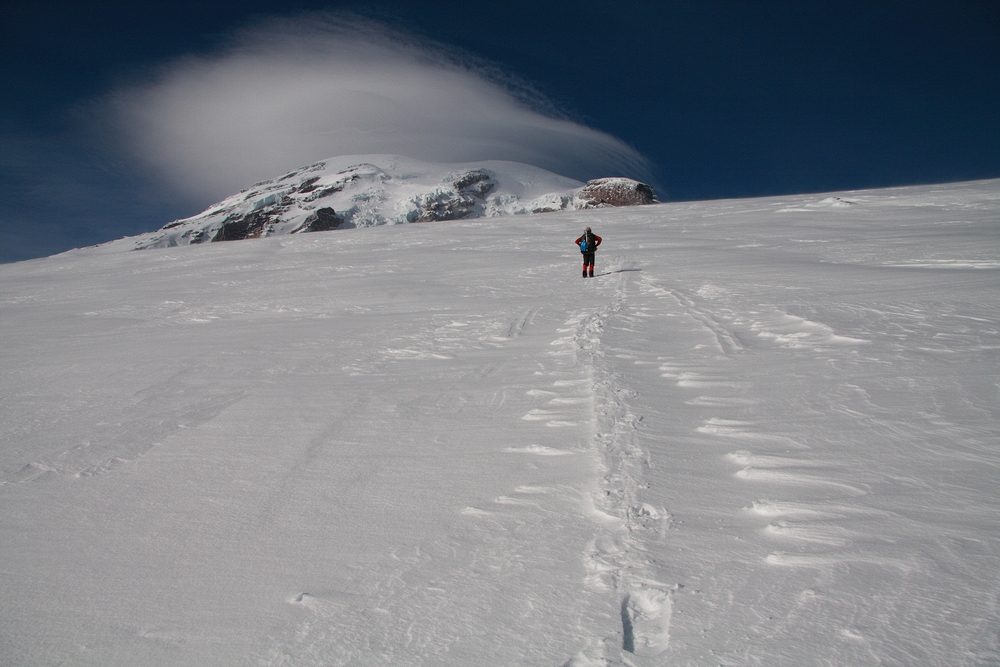 ANW: Your online photo gallery "From My 'Art" captures the beauty of the Northwest outdoors. Do you have any outdoor photography tips? 
Erika: I have been – and still am – fanatically shooting photos of our local mountains, sunsets and nature because it truly inspires me to be out in those amazing places. Capturing that feeling as a photographer is a really gratifying part of getting outdoors.
I don't think there is a single tip I can throw out as more important than any other, but I find that hiking and photography are alike in this way: you can make them as intricate and challenging as you want. The key to both is to enjoy them and do the parts that you love.
ANW: You have two young children. Do you take them with you on your outdoor adventures?
Erika: Yes, we take them camping and hiking quite a bit. I don't believe that a kid can get too much outdoor time. We fight the electronics and screens like every other family, but I think exposing kids to the outdoors is the biggest gift you can give them. My dad used to take us fishing, camping and canoeing all the time and you know what, it's time I've never regretted, so I work hard to make it a priority in our family, too.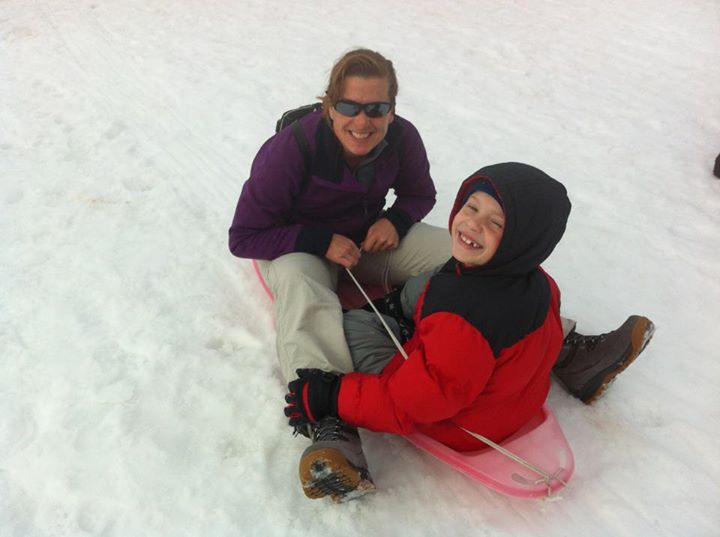 ANW: Do you have any advice for getting active with the whole family?
Erika: Pick an activity that engages everyone. Whether it's soccer or hiking or rollerblading, get everyone out and enjoy the face time along with the activity. Also, do it often enough that it's an expectation, rather than an interruption to the rest of life.
Photos courtesy of Erika Klimecky.