Our Health in Action series profiles people in the community who are living Actively Northwest. Follow along each week as we profile new people who are committed to living active, healthy lives through fitness and food.
Have you been looking to get your family biking around the neighborhood in a way that's both fun and safe? Look no further than Kidical Mass. This nationwide group — with roots in the Northwest's own Eugene, Oregon — organizes mass family bike rides that all can enjoy.

We sat down with Kidical Mass founder Shane MacRhodes to hear how biking in groups can help families feel safer and get to know their communities at the same time. Read on to learn how to participate in a Kidical Mass ride and even start your own neighborhood family biking group.
ANW: What inspired you to start Kidical Mass?
Shane: Ted White, a documentary filmmaker who has created films about biking in various parts of the world, came to Eugene in 2008. We wanted to celebrate his arrival with a fun, family-friendly ride around town that was like a Critical Mass in that it could build community and make a statement about cyclists' rights to the road, but through smiles and laughs instead of aggression. It has grown, in our community and beyond, to be much more than we could have hoped.
ANW: What does a Kidical Mass ride entail?
Shane: It's different in each city, but typically it takes place once a month, starting at a park and ending at another fun location. It's a way for families to get together and explore their neighborhood, and it's an empowerment tool for those who might not feel comfortable biking on their own. The idea is neither to clog up streets nor to ride only on paths, but to connect to real destinations (schools, parks and businesses) with real family-friendly bikeways.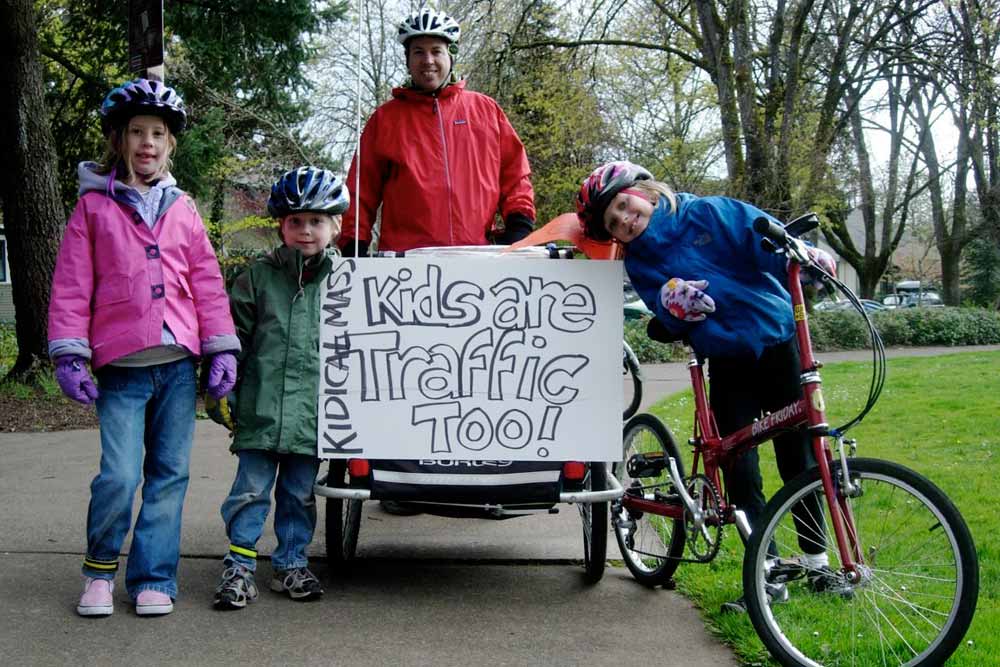 ANW: How do kids and parents get involved?
Shane: We send out notices about our rides in school newsletters and post flyers around town. We have an active Facebook Group and an email list as well. Some rides require pre-registration, but most you can simply show up to — I'm always surprised when there is bad weather and several families still show up. Rides can range from 4 to 40 families, and we have a good group of regulars. Some parents help plan a ride or route, some assist with our safety talk at the beginning of every ride, and there is always someone who volunteers to be the "sweeper" (the person who rides in the back of the group, to keep everyone together and help out if anyone encounters a problem).
ANW: Where can someone find a Kidical Mass ride to join?
Shane: Currently Kidical Mass rides happen in Seattle, Portland, Eugene, Springfield and sometimes Ashland, Salem and Bend. We don't have other city expansions planned, but we are always happy to help people get started. We also have a helpful FAQ page on our website and a Facebook group for Kidical Mass Organizers that are a great resources for people around the country.
ANW: What is your number one safety tip for biking with kids?
Shane: Practice. Get out there and do it — whether you're riding with a group like Kidical Mass or out there on your own. The most important thing is to start slowly on quieter neighborhood streets or paths to get you and your kids comfortable. It's sad how many kids are growing up without the freedom to explore their city on a bike. I believe it's a parent's responsibility to get out there with their kids and start them on the path of freedom that biking can offer.

ANW: How do children benefit from riding a bike at an early age?
Shane: Not only are there the clear physical health benefits of cycling, but physical activity on the way to school has been tied to better success in school. Getting a child on a bike early on builds up their understanding of riding around traffic and opens up their ability to explore and expand their horizons.
ANW: Any upcoming Kidical Mass events you're excited about? 
Shane: I'm excited for our September Kidical Mass ride, "Bike & Boat the Willamette," where we bike up the Willamette River and then load the kids in the City of Eugene's recreation boats to float back down. We also have a lot of fun events leading up to National Walk+Bike to School Day on October 8. Lastly, we're holding a "Confident Cycling for Families" class in early October.
Learn more about Kidical Mass and find a local family ride by visiting www.kidicalmass.org. You can also follow along their biking adventures on Facebook and Twitter!