Our Health in Action series profiles people in the community who are living Actively Northwest. Follow along each week as we profile new people who are committed to living active, healthy lives through fitness and food.
It can be hard to find the motivation to run. But this week's Health in Action hero, Kayla Whittington, can't help but feel inspired by the running community in Portland. She chronicles her fitness journey on her blog, FitLifeForward, and has tracked just under 5,000 miles since 2012.
We chatted with this inspirational Portland blogger about how she trains, where she finds motivation and how she keeps moving forward.
ANW: What set you on your healthy lifestyle journey?
KW: My interest in a healthy lifestyle actual began from taking a nutrition class when earning my undergraduate degrees. I had always been in love with science, but I hadn't ever encountered the science of what you eat and do and how that affects your body. I was completely wowed and engaged and decided to make some changes based on what I learned. I chose running because my college boyfriend was a collegiate runner — but by the time I really began, ironically, he quit. My early runs around Corvallis and the progress that I made back then are some of my favorite memories!
ANW: How do you continue to find fitness motivation and inspiration in Portland?
KW: The running community in Portland is huge, and the online running community is even larger! This makes it so easy to find inspiration and motivation. I look forward to running with the friends I've made through the sport — not to mention I love looking at my Instagram feed full of friends' muddy shoes and race medals next to radiant faces!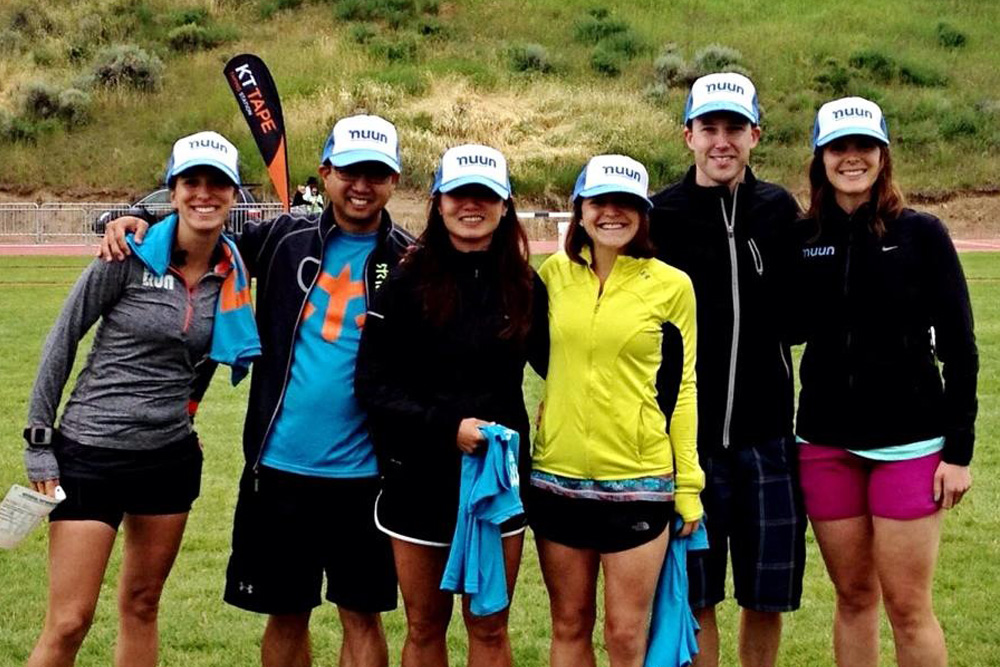 ANW: We see that you're training for the Shamrock Run. Awesome! How are you training for that?
KW: Last year when I ran the 15K, I trained hard to prepare for it. I made sure to do many hill repeats so that I could teach my body to keep pushing even after being tired on the long haul up Terwilliger. I also did long runs on hills to help practice battling fatigue. My hard work paid off, and I beat the goal I'd set for myself by five minutes!
This year I'm running the Shamrock 15K just for fun. It's an extremely fun race, and it's been a tradition for me every year since I moved to Portland. The number of people who participate and the surrounding energy are always so fantastic.
ANW: Any tips for someone new to running looking to follow your lead?
KW: Almost every person who doesn't run absolutely hates it … and I think I may have figured out why. When we run and play as kids, it's for fun — we race around, play tag. We don't run for exercise or endurance. When people begin to run as adults, they almost always make the mistake of starting out too fast. Then they can't run for very long and it quickly makes their legs and lungs tired.
The secret to beginning a great relationship with running is to start slow. Literally: Run slow. Then you'll actually take the time to breathe in your surroundings, and you can cover ground and feel accomplished afterward. As a beginner runner, you'll get faster simply by continuing to run!
Also, just enjoy every moment. You only get each of those "firsts" once. I remember my first time hitting eight miles and the sense of accomplishment I felt; the first time I ran in the double digits (and fist-pumped right along the waterfront); my first ever 5K, first half marathon, first marathon; my first time up a huge hill or completing a track workout. Those first times are so full of fire and they fuel your relationship with running. So don't ignore them! Soak them up!
ANW: Speaking of the trails, what are your favorite spots around Portland to train?
KW: There are SO many trails to run in Portland. I say almost every day how lucky I feel to live in such a beautiful, green city. Just Saturday I met friends to run the Wildwood trail starting at the Forestry Center. Wildwood is a favorite and, I think, iconic trail for Portland. Tryon Creek, in Lake Oswego near Lewis and Clark, is wonderful too. But I also love weaving my way through neighborhoods and city streets. There is almost no area in Portland that I can pass through without saying "Hey! I've run here!"
Are you thinking about training for the Portland Shamrock Run? Get inspired with our two-part training guide!
All photographs courtesy of Kayla Whittington.