Ariana Kukors is an Olympic swimmer, world-record holder and Pacific Northwest native who is working with LifeWise to promote healthy living. Actively Northwest recently spoke with Ariana about her career, staying healthy and what's next.
You hold the current world record for fastest 200m IM in swimming. How does it feel to know that you swam that event faster than anyone, ever, in the entire world?
It's an amazing feeling! Especially because the record is still standing. Records are set and broken all the time in swimming. And honestly, I thought for sure my record would fall during the last Olympics. I'm incredibly proud of that swim and feel so blessed to have had that opportunity.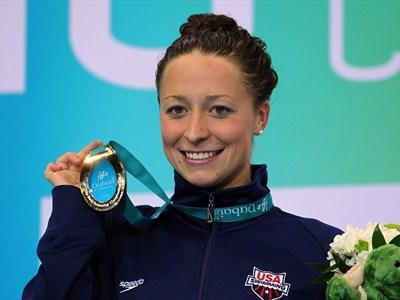 You won a gold medal at the 2009 World Championships. What's it like to represent your country and win a world title?
When you're standing on that podium with a gold medal around your neck, and you hear our national anthem start up… it's indescribable. It was truly one of the most special moments of my life. And it was everything I had hoped and dreamed it would be. It made all of the hard work I put in getting to that point worthwhile.
What's next for you?
Well, I've retired from competitive swimming. But that doesn't mean I'm done looking for new ways to challenge myself. When I swam, I had a really tough and demanding workout routine.  However, even though I'm done competing as a swimmer, I haven't lost my competitive edge. And I'm definitely going to continue to push myself with all kinds of different activities.
Why are you working with LifeWise?
I want to empower others to be as active as they can be, and LifeWise shares this goal. That's why I'm so excited to collaborate with them and Actively Northwest. Even though we are all on a different path when it comes to our health, I want to help as many people as possible take the next step in their health journey. Because no matter how big or how small, every step counts. And nothing makes me happier then knowing that I have made a positive impact on somebody's life.
What advice do you have for people who are trying to get the most out of their health?
Good health and fitness is not one-size-fits-all kind of thing. You need to try out different activities and different foods until you find the ones you like best. Then you need to stick with those and make them work for you. We all want some sort of change in our lives, and I love helping others seize the opportunity to make those changes happen
How do you take advantage of the Pacific Northwest to stay active?
Oh, lots of ways. The Pacific Northwest is such a beautiful part of the world and I love to be outside as much as I can. For now, my favorite outdoor activities are hiking, walking, running, and bike riding. But I'm always looking for new activities. This is an amazing place to call home.
Want to hear more from Ariana? Stay tuned. Ariana will be regularly sharing tips and stories from her local food and fitness adventures.