Living LifeWise is a regular column provided by LifeWise Ambassadors — LifeWise employees whose healthy choices are helping them live better lives. Today's column is provided by LifeWise Ambassador Whitney Haggerson.
I am obsessed with the holidays. Honestly, I have been counting down the days till Christmas since mid-October. The holiday season brings together all of my very favorite things: Advent calendars, pumpkin-flavored everything, lots of time with my "framily" and twinkly Christmas lights. Of course, with the nice comes a little naughty, including colder weather, sometimes stressful family gatherings, way too many office snacks and more boozy, holiday parties than my schedule can handle.
January 1st often brings the post-holiday blues (and the desire to buy some bigger jeans). This year, I'd really like to avoid looking like the Jolly Old Man in the red velvet suit, so I'm making it my goal to avoid holiday weight gain. Here's my plan:
Be realistic, and find strength in numbers.
Maintenance is a worthy goal. If can I make it to January 1 within a few pounds of my pre-Thanksgiving weight, I'm going to be pumped! To keep myself on track, I'm teaming up with a few co-workers and some close friends to try a new home grown challenge: Everyone contributes twenty dollars, and we weigh ourselves the day before Thanksgiving and then again on New Year's Day. Those of us within three pounds of our pre-Thanksgiving weight will split the pot. I'm hoping the financial incentive will keep me on track. My wish list is long this year and those winnings could really come in handy if I don't get everything I'm dreaming of!
Don't miss the pre-party.
If you're anything like me, the holidays bring some questionable reasoning skills: "I know I'll be eating a big meal tonight at the party, so I'll just skip lunch today." Ever said that yourself? Bad idea.
By the time I get to the party I am starving and the chips, cheesy dips and pastries get the best of me. To avoid this pitfall, I'll be "pre-gaming" those holiday parties with a lot of water and a healthy, high-protein snack before I head out, so I'm less likely to binge when I arrive.
Dress the part.
Chilly Pacific Northwest winters call for lots of layers and over-sized, cozy sweaters – making it all-too-easy to hide any holiday weight gain. Form fitting clothes are a great gauge of how my body is changing from day to day; if the pants I wore last week are feeling a little tight, I'm going to avoid burying them in the back of the closet and wear them anyway. For better or worse, the snug waistband will serve as a reminder of how my holiday eating habits are affecting my waist line.
Get creative with exercise.
Squeezing in workouts between holiday travel and a plethora of seasonal events can be difficult. Keeping my expectations realistic, I'll try to sneak in some fun fitness activities wherever possible. My family starts every Thanksgiving with a 5K (check out these great Pacific Northwest Turkey Trots) because burning calories together is a great way to earn that big meal later in the day.
I also make it a point to park further away from the mall during my holiday shopping trips. And, rain or shine, our entire family always goes for a post-Christmas-dinner walk to look at Christmas lights.
Staying close to home this holiday season? Check with your gym: most offer holiday challenges to keep their members accountable.
Set an end goal.
If I successfully avoid packing on those extra holiday pounds this season, I can focus my New Year's resolution on something other than weight loss. I've already begun to brainstorm other, more important, goals – like eating all organic, or expanding my shoe collection.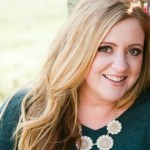 Whitney Haggerson is a California native who is learning to love the Pacific Northwest in all its fleece-y glory. Living LifeWise is part of her quest to learn to love exercise rather than do it as a means of offsetting her peanut butter addiction. Whitney works as an Internal Consultant for LifeWise and lives in Green Lake with her husband and their chocolate Lab.