Living LifeWise is a regular column provided by LifeWise Ambassadors — LifeWise employees whose healthy choices are helping them live better lives. Today's column is provided by LifeWise Ambassador Sarah Swanberg.
Have you ever wondered about the mysterious chef who does all the cooking for those six-second LifeWise Kitchen videos? I sat down with Nicola King, LifeWise Kitchen's head chef and Senior Manager at LifeWise, for a little chat on what makes LifeWise Kitchen happen.
Sarah: How did you become the LifeWise Kitchen chef?
Niccie: We were tossing around ideas for bringing these healthy recipes to life, and someone mentioned that I write a food blog. Before I knew it, various colleagues who had been to my place for dinner were chiming in about my cooking skills… I suppose that's how it all got started.
Sarah: Where did your love of cooking come from?
Niccie: Even though I was a really fussy eater as a child, I've always appreciated and loved food. My parents placed a high priority on knowing how to cook and what it means to eat good food. I grew up in the UK, and we traveled in Europe a lot, which gave me the chance to try lots of different tastes. Also, my mum is Jamaican, so I was truly exposed to lots of different kinds of food and learned to see eating as an adventure.
My parents always encouraged my brother and I to cook — although sometimes that backfired. I remember my mother being furious one morning when I was about eight or nine: My parents had slept in and I'd cooked myself and my little brother prawns in garlic butter for breakfast. Go figure.
Sarah: And now you're LifeWise Kitchen's most famous pair of hands! What goes into being behind the camera?
Niccie: Really good stirring skills and a collection of sharp knives! What's funny about cooking for a shoot is that you have to do the same action 10 times, so the photographer can get the best angle and the videographer can get the same shot — without blocking out the light. It's actually very repetitive and not at all like real cooking.
Sometimes, it even ruins the food! One time we were making kale chips and had to sprinkle salt on them before they went into the oven. We must have done the "salt sprinkle" six or seven times to get the right pictures. By the time they came out of the oven, those kale chips were inedible!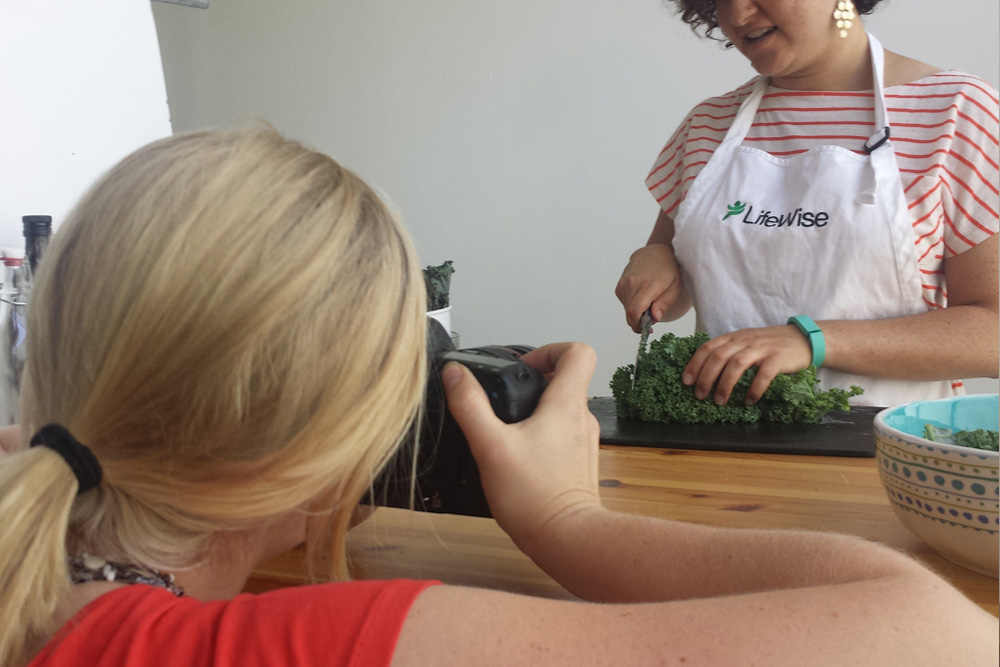 Sarah: What do you do to prepare for a kitchen shoot?
Niccie: I get all the recipes a week beforehand, so I can test them all out first. I try to photograph each stage as I'm cooking so that the rest of the team can get an idea of what shots they'll be able to get. At the shoot, I give notes on the recipes to make sure the instructions are clear and that we're listing the right ingredients. I mainly use my own equipment during the shoot, so I sharpen all my knives and basically pack up half my kitchen on the morning of the shoot. We try to shoot four recipes in a day, and we just don't have time to do things over if something goes wrong, so it's important to be prepared.
Sarah: Tell me about your favorite LifeWise kitchen shoot.
Niccie: That's a tough one! My favorite shoots tend to be the ones when we're making simple recipes with beautiful, colorful ingredients. I remember one shoot in the summer when we had loads of fresh herbs. We were talking about how amazing all the herbs smelled. The videographer said something really strange, something like, "This one smells so nice, I'd like to rub it all over my skin." It came out of nowhere and had us all laughing so hard, we began tearing up.
Another time, our photographer decided she wanted a shot of me eating a butternut squash fry. I must have eaten half the bowl in an attempt to get the perfect shot. You'd be surprised how hard it is to bite down on a piece of food in just the right way.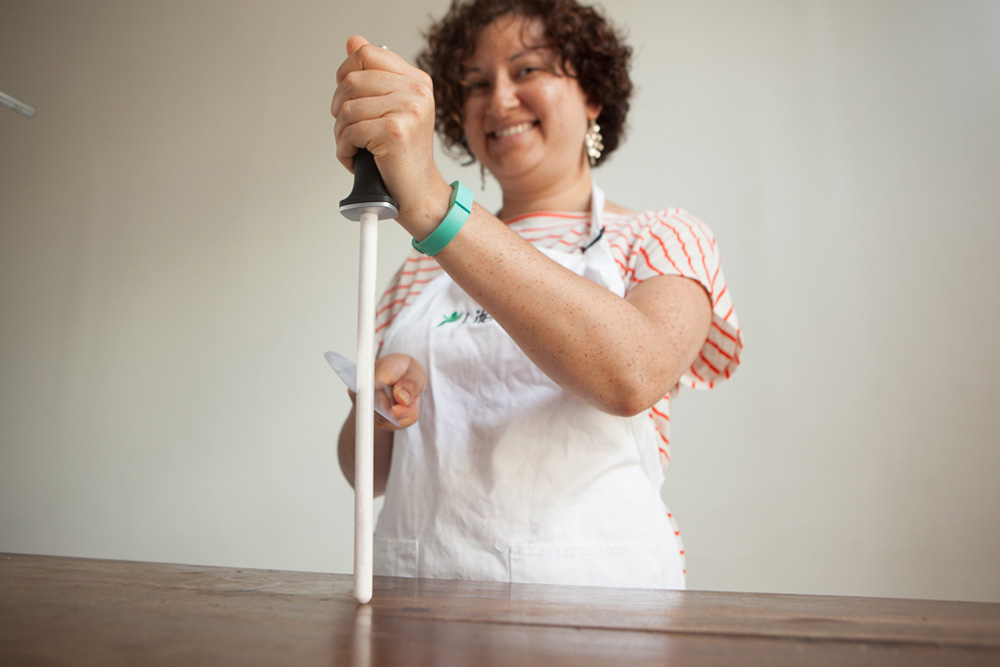 Sarah: Which were your favorite recipes prepared in the Kitchen?
Niccie: My favorite recipes to make were probably the butternut squash fries and the napa cabbage slaw. I really love both of those, and I make them at home all the time.
Sarah: How amazing is your sous chef? (Full disclosure: I am usually Niccie's sous chef.)
Niccie: I have the best sous chef in the world! Seriously. Because we're making four dishes in one day, sometimes you need to have one person standing over a pot stirring while the other is chopping the veggies for the next dish. It would be impossible to do all of that without a skillful second pair of hands. Plus, hanging out in the studio all day is a lot more fun with you there.
Sarah: Well, thanks, Niccie. Do you have any advice for people interested in cooking?
Niccie: In my kitchen at home I have a quote from Julia Child hung on the wall. It says, "Cooking is like love. It should be entered into with abandon or not at all."
I really believe that. Whether you're cautious in the kitchen or you cook like a pro, you just have to go for it. Give it your all, try your best — and make sure you have the number of the local pizza place handy in case it all goes wrong.
Niccie's Bonus Tips for Cooking Newbies:
Find a really simple recipe, read it carefully, go slow, and you'll be amazed how well it turns out.
Get a really good sharp knife. Nothing will make your time in the kitchen more difficult that a blunt knife.
People often think that cooking is an art form. Sometimes it is, but it's amazing what you can do with some basic ingredients and a bit of patience. The more you practice and gain confidence in yourself, the better you'll get.
Go out and eat something different. Many of the recipes Niccie makes for her blog are variations on foods she has enjoyed elsewhere. She has no problem grilling a waiter on how certain foods were prepared, and neither should you!
Take a class or two! Learning to do the basics quickly and efficiently allows you to focus on experimenting with new recipes and ideas.
Want to hear more from Niccie? Check out her spot on King 5 in the video below and continue to follow our LifeWise Kitchen series.
What LifeWise Kitchen recipes have you tried? Share your favorites in the comments below.