Living LifeWise is a regular column provided by LifeWise Ambassadors – LifeWise employees whose healthy choices are helping them live better lives. Today's column is provided by LifeWise Ambassador Johanna Dokken.
It's an exciting thing, when, at some point in your middle years, you discover a joyous new activity. It's all the better when that activity also happens to be a highly practical means of transportation—plus great exercise.
Over the years, I've generated a lot of well-honed biking excuses: My back hurts. The seat is uncomfortable. I'm afraid of cars. It's wet out. There are too many hills. But this summer I resolved to get over it already. I wanted to go beyond our leisurely family rides and take advantage of my proximity to work and around-town happenings, and enjoy the season by taking the road less traveled—the bike lane. I've managed to add biking to my routine and feel all the more enlightened for it.
Small changes, big difference
To start off with, I had to get real with my excuses by making some smaller adjustments.
Better bike: After hovering over Craigslist and local bike stores for months, I ended up purchasing a rebuilt road bike from a friend. Going from my 50-pound cruiser to a lean road bike definitely lightened my load and made my ride more agile and efficient. Being able to whisk around nimbly and with less effort really changed my attitude.
Realizing my limits: My new bike generously came with some super cool clipless pedals and shoes. While I loved the idea of being a hardcore cyclist and pedaling with maximum efficiency, the reality was that they were far too advanced for my current road bike skills. I would find myself cautiously slowing down 100 yards from an intersection, grappling with the unhooking of my foot, and panicking about the prospect of being trapped and falling. I definitely wasn't sailing through lights alongside cars like more elite road bikers. So I put traditional pedals on my bike and am saving those clipless pedals and shoes for longer road trips, which I hope to build up to.
Practice makes perfect: I carved out one day a week in my schedule (where I don't have to be the kiddo shuttle) to bike to work, and I've kept it up all season. I've become savvier about the route and steadily improved my overall technique, cutting my 6-mile bike commute from one hour to 40 minutes.
Learning the local trails: Once I got comfy with riding to work, I tackled biking around town using the well-laid lanes of the Interurban, Burke Gilman and Green Lake trails. I set up my phone with Google Maps so it directed me as I rode. (Johanna's Tip: Sometimes a map app can seem to have a mind of its own and randomly call out, "Turn right! Turn left!" But for the most part, it is a savior.)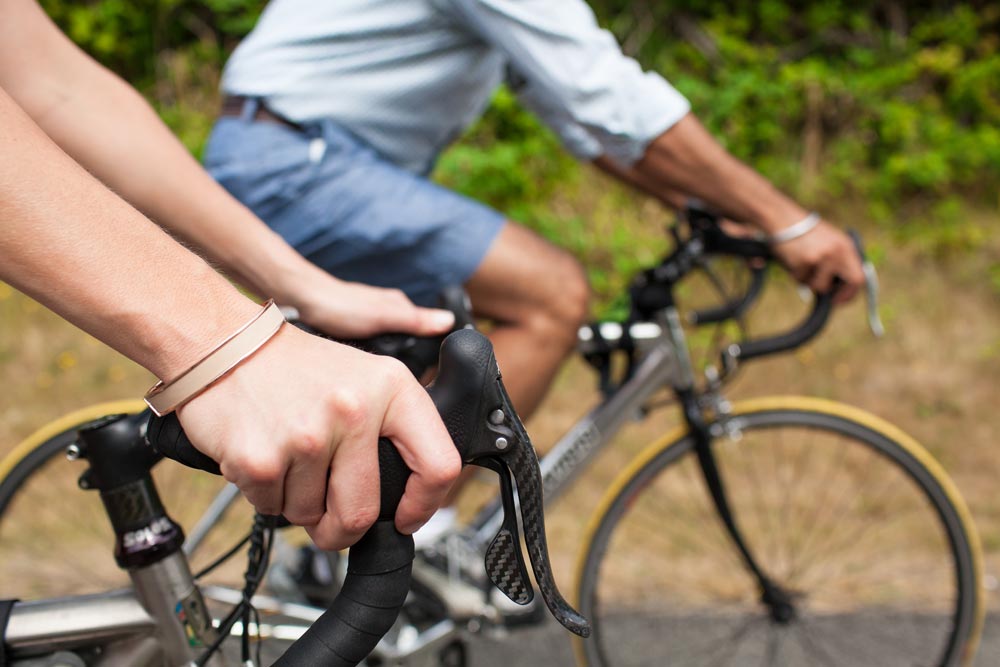 The feeling of freedom
My journeys have delighted me in the most unexpected ways—a hidden path through Capitol Hill, sailing past a traffic jam at rush hour, warm evening breezes. Even a slow climb up a steep hill on my bike without having to walk makes me feel accomplished. But most of all I love how the city feels different on a bike, with so many different paths to explore.
I gravitate toward activities like swimming, yoga or jogging, where I can zone out or fixate on my endurance pace. Not so with biking around town! It's like learning to drive again—being hyper-present in the moment, totally aware of my surroundings. I tend to be a little overzealous about eye contact with drivers coming out of parking lots—but it keeps me safe! To my surprise, I am enjoying the "eyes wide open" engagement biking brings.
Still some uphill
Of course, there are still logistics to contend with: change of clothes, judging travel time, water, snacks, sunblock, etc. Also, as the change of the season looms, I have found myself contemplating tires with better treads to handle the rain, and outerwear to provide more protection and visibility. Fall riding will certainly up the challenges—but with some inner resolution, I aim to keep riding on.
________________

Johanna Dokken is a former college swimmer and mom of two, looking to make health and fitness a higher priority. Her inspiration to lead a more active and healthy life comes from her family's history of diabetes and heart issues, as well as a personal brush with cancer as a teenager. She loves the personal empowerment, stress relief and community of training and pursuing outdoor activities.