Living LifeWise is a regular column provided by LifeWise Ambassadors – LifeWise employees whose healthy choices are helping them live better lives. Today's column is provided by LifeWise Ambassador Emily Agerton.
When I grew up, I wanted to be a professional basketball player. I had posters of Gus Williams and Jack Sickma on my wall and a number one on my jersey. I remember going to basketball games in the Seattle Kingdome and being transfixed by the acrobatic dunking and sweat flying across the court. When I wasn't busy holding my chocolate malt and wooden spoon, I held hands with my Dad. I was an eight year old girl and absolutely in love with basketball.
My love of basketball is born
I grew up surrounded by boys – an older brother, a younger brother and the five boys next door. One of the only benefits of this environment was that I always had someone willing to shoot hoops with me. We had two hoops in our backyard and enough cement in between to practice our full court press. I practiced year-round, dribbling and working on my free throws.
After Jack and Gus, my favorite basketball player was my Dad. He played on a recreation league with his work friends at lunch, so obviously, I knew he had to be really good. We'd play outside most nights after work and practice our shots while playing games like H-O-R-S-E, P-I-G, and my all-time favorite, Around-the-World.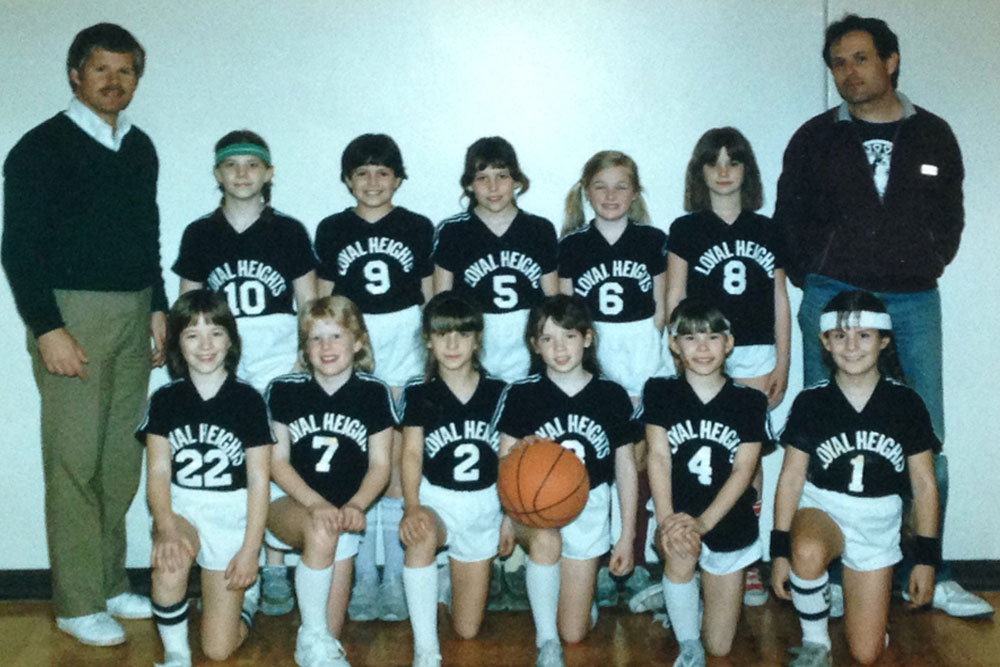 PUT ME IN COACH
After playing for a year on a co-ed team where I was the only girl, I moved to a girl's league and my Dad signed up as our coach (far right in the team photo above). I convinced the entire Bluebird Troop to sign up for the team, and weren't we a motley crew of pigtails and dreams. Each of us wanted to play the center position so we could slap the ball at tip-off and start the game. My Dad gracefully discovered our strengths and redirected our talents accordingly. At about four and a half feet tall, I soon settled in to my position as a guard.
Practices were several nights a week, the sound of dribbling ringing in my ears. There were scrimmages and layups, passing, pressing and many rebounds. The fundamentals came together and we were working together well as a team, thanks to the guidance from Coach Dad.
Saturdays were the best days of the week. Game day! I can't tell you if we won more games than we lost those years, but we didn't care about any of that. We just played our hearts out, beamed when we scored and never bemoaned our competitors. At the end of each game we "high-fived," "good-gamed," and chanted because we loved playing the game. My Dad, the great basketball player, taught us great sportsmanship.
HOOP DREAM REALITY
I continued to play basketball throughout childhood until finally, my height challenged me and the realization that I couldn't play professionally settled in. I had many coaches through the years, and while most were better players than my Dad, none of them were better coaches. He loved the game and built fundamentals – as well as the necessary confidence – in all of us girls.
To carry on our tradition, I now shoot hoops with my own eight-year-old in our driveway. And on Father's Day, I'm planning to challenge my Dad to a game of pick-up hoops. I might even teach my kids that special chant:
2-4-6-8
Who do we appreciate?
DADS!
______________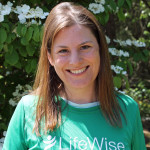 LifeWise Ambassador Emily Agerton plays sports year-round and loves that her children have inherited that trait. The four seasons host a frenzy of children's sports activities and Emily is passionate about getting parents off the sidelines and embracing family fitness. From "mom and me" ski classes to family bike rides to swim lessons with her daughter, she is finding ways to embrace family movement and wants to encourage others to do the same. Emily is the marketing brand manager for LifeWise and lives in Ballard with her two cool long-haired kids and an even cooler, hairier husband.