Living LifeWise is a regular column provided by LifeWise Ambassadors – LifeWise employees whose healthy choices are helping them live better lives. Today's column is provided by LifeWise Ambassador Christopher Breunig. 
Some look for any excuse not to exercise or eat well. But for me, my barrier has always been time. Once I get on a bike or in the pool, I have a blast. My challenge is prioritizing so that I do work out, and staying well enough to keep going. What I've found is that planning and preparation is the key to keeping on track. I must be mentally ready to exercise, eating healthy, have time to heal – if needed – and then repeat.
Getting there hasn't been easy, though. My motivation is to keep pace with my active family which includes my wife and two kids. Whether we're hiking, scuba diving, swimming or biking, I don't want to sit out of any family adventures.
A BUSY PAST
When my kids were young, my goal was to work out three to four times per week. I would schedule a workout. Then reschedule. Then again, until I ended up doing far less than I should. It became a pattern, then a justification.
Fifteen years ago, I was at my annual physical trying to avoid probing questions about my growing weight and back pain. When I explained that work and home responsibilities often got in the way of my being active, I remember the look he gave me as I stammered my explanation. He told me that I was the kind of person who had to plan to be active every day – not just the regular three times a week – to avoid the on-the-fly scheduling that had led to my inactivity.
PLANNING IS THE KEY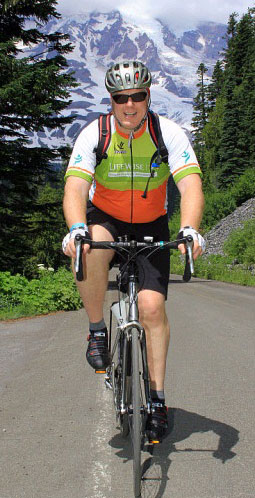 Today my goals are pretty simple: exercise six times a week and do it while avoiding injury. I do this through a combination of biking, swimming and workouts at the gym. To be sure I fit it all in, I always have my exercise clothes packed. If I don't work out in the morning, I need to be ready to do it after work. I have also discovered the physical and psychological benefits of hot yoga. Not only does it keep me knee and back pain free, hot yoga also chases away the Northwest chill, providing what I call a "90-minute budget trip to the tropics."
I enjoy all aspects of food and sometimes catch myself eating enough for a family of four! When I eat the right food in the right quantity, I'm satisfied. Again, preparation and planning make all the difference. When I have healthy snacks in the car, office and home, it's much easier to eat right. Almonds, beef jerky, apples and peanut butter are my go-to's.
PREVENTING INJURY
Injuries at my age can be problematic, as they prevent me from exercising. But they do not have to be an ongoing limitation on my life. If the need arises, I have an amazing physical therapist. It has worked wonders on my shoulders and knee, and has kept me feeling great, even with my busy schedule.
YOU HAVE THE TIME
Like everyone else, I have a busy life. But with a bit of forethought, I've been able to stay active, even with such a limited amount of time available to me. It did, however, take a bit of work and dedication to keep motivated. What about you? What keeps you motivated?
_______________
Christopher Breunig is married and father of a son and daughter in their late teen years. He lives in Bellevue and tries to serve as a good example to his kids, and sometimes as a cautionary warning.