Living LifeWise is a regular column provided by LifeWise Ambassadors – LifeWise employees whose healthy choices are helping them live better lives. Today's column is provided by LifeWise Ambassador Christopher Breunig.
I had only a few minutes before I needed to board my plane to Scotland. And instead of getting a bottle of water, a latte or some reading material, I spent those minutes frantically searching for an electrical converter so I could charge my Fitbit and track my steps overseas. Finally, among a sea of earplugs and overpriced chargers, I found what I needed. Now I was "fit" to travel.
My daughter and I were going to Scotland to celebrate family birthdays and her graduation, and while for me that meant an enjoyable break from many things back home, I decided against taking a break from crunching fitness data. My wife was not available to go, so it would only be my daughter and I for 17 days. Writing this, I realize how fortunate I was to have over two whole weeks with this amazing young woman on the cusp of going to college — but this is a LifeWise Ambassador post, so let's get on to the fitness tracker.
For those who don't know, a Fitbit is a wearable device that counts the steps you take, the flights of stairs you climb and many other data points. I usually set mine with a goal of 15,000 steps per day, and I feel pretty great when I reach that. You can even sync up the Fitbit's data to your computer with a USB dongle.
We were planning to walk a great deal on our trip, including hiking on the Isle of Skye. I was aiming for a major fitness point-busting vacation. However, to lean down my luggage, I decided not to lug a computer and USB dongle around; I would just keep my Fitbit charged, then revel in the big download when I returned home to sync up.
Once we landed and got to our Edinburg hotel, I immediately opened the plastic pack and plugged my new currency converter into a foreign plug, plugged my USB converter into the converter, then eased my Fitbit's charger into the USB, clicking it inside its cradle. I could see the lights of my Fitbit charging on those Scottish volts! Success.
Our hotel was about twenty minutes outside of central Edinburgh, and we walked everywhere for two days, beating jet lag, watching city life and just loving the vibrancy of Scotland's capital. I tapped my wrist joyfully as I got 3,000 steps walking each way from downtown. My daughter has seen this type of obsessive behavior before — she noticed shortly after I got the Fitbit that I would park as far away as possible from the gym, grocery store or park just to get more steps in. She only teased me a little. And then I think she actually got a little hooked herself, because she started asking several times a day how many steps we had walked. Visions of being a leader (for once) on EveryMove filled me with pleasure.
We continued racking up steps our entire trip — but when I got home I found out my Fitbit only retains seven days of data. I had an embarrassing "no data" hole for 10 days!
Even without keeping score, though, the Fitbit did its job of encouraging us to walk everywhere (rather than bus) and enhanced our overall trip experience. Because we were cruising by foot, we found a coffee shop to stop at every morning, and we happened on two bookstores (we can't pass one of those without some damage) that we wouldn't have noticed in a bus or taxi. Even without recording all 17 days of steps, it changed our mode of experiencing the streets, trails and Cuillins of Scotland.
Next time you go on a trip, consider taking a fitness tracking device like Fitbit. You'll be astounded how it increases your activity and enjoyment of the journey.
______________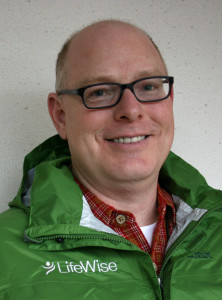 Christopher Breunig is married and father of a son and daughter in their late teen years. He lives in Bellevue and tries to serve as a good example to his kids, and sometimes as a cautionary warning.