Living LifeWise is a regular column provided by LifeWise Ambassadors – LifeWise employees whose healthy choices are helping them live better lives. Today's column is provided by LifeWise Ambassador Dana Robertson Halter.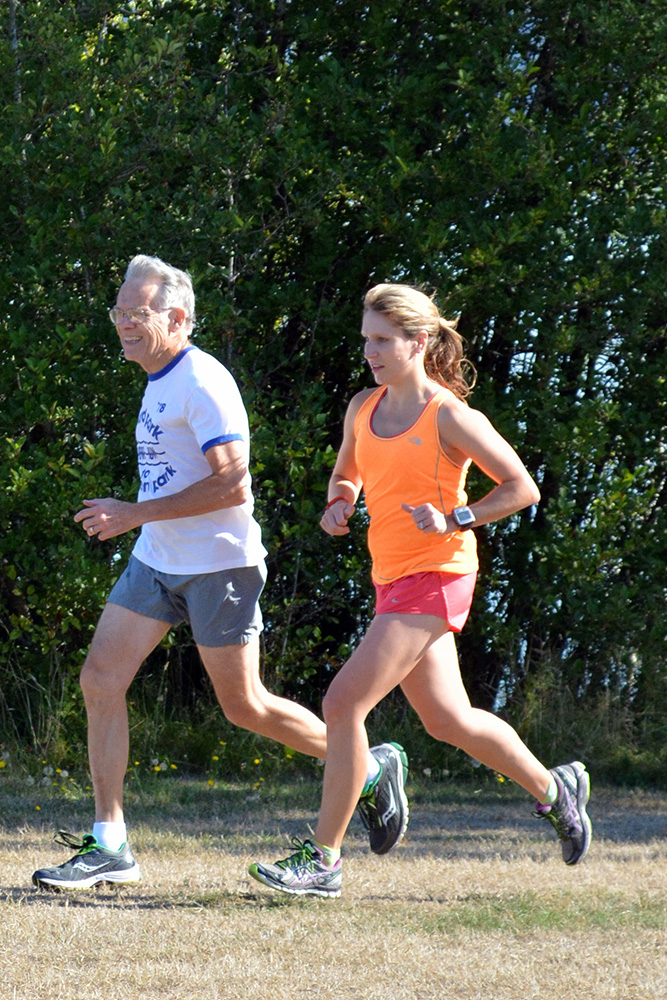 Long before the acronym "BQ" (Boston Qualifier) was famous in running circles, my dad ran the Boston Marathon. When he was running the 1966 race, someone in a blue hoodie jumped onto the course right next to him. Her name was Bobbi Gibb. She was the first woman to complete the Marathon, and she was wearing the hoodie to conceal her gender — at the time, women weren't welcome on the course.
I've been watching my dad train for and compete in various athletic endeavors since I was a baby. He ran marathons and 10Ks seriously from 1965–79, and my sister, mom and I were frequently there to cheer him on. My dad was also a college swimmer, and continues to swim with his masters swim team, the Mercer Island Redwoods, several days a week. He windsurfed in the 1980s and 90s, skis every winter (he LOVES the perks of being a senior skier!), and started doing triathlons with me in the late 1990s.
In 2011, when he was 69, we ran the Mercer Island Half Marathon together, and proudly finished under our goal time of two hours. Basically, my dad is the epitome of health and fitness, and when I'm 72 I plan to be just as active as he is.
I asked him a few questions about what keeps him going. After all, it's never too late to start a fitness routine — check out Christopher's post about his 88-year-old weightlifting mom!
Dana: Why do you enjoy being active?
Dad (Tom Robertson, MD): I usually spend 45 to 90 minutes a day running, swimming, biking or doing heavy yard work. I do it simply because it makes me feel better. If I haven't exercised, I just feel sluggish.
Dana: What challenges do you face as a senior athlete?
Dad: Without question, avoiding injury is the biggest challenge as you get older. When you're young, you can transition from being completely sedentary to reasonably fit in a month. But that transition will take many months when you're elderly. And unless you're very cautious about increasing your workout intensity, you run the risk of tearing muscles while you're trying to get in shape. Once you're over 60, any muscle group that you do not regularly exercise simply starts to fade away, and it takes a very sustained training effort to get those unused muscles back to where they were when you were ten years younger.
Dana: Any recent lessons learned from training and racing?
Dad: I got a minor Achilles tear by ramping up my running regimen too fast. So no Mercer Island Half Marathon with daughter this year, and it's taken five months to get back to where I was in March. (This proves that you're never too old to make dumb mistakes, even when you ought to know better.) I've learned the same thing with swimming — I have bilateral shoulder injuries from overtraining. I'm now faithfully following the regimen of exercises outlined by my sports medicine doc, aspiring to get to the point where I can once again complete the workout the coach writes up on the board.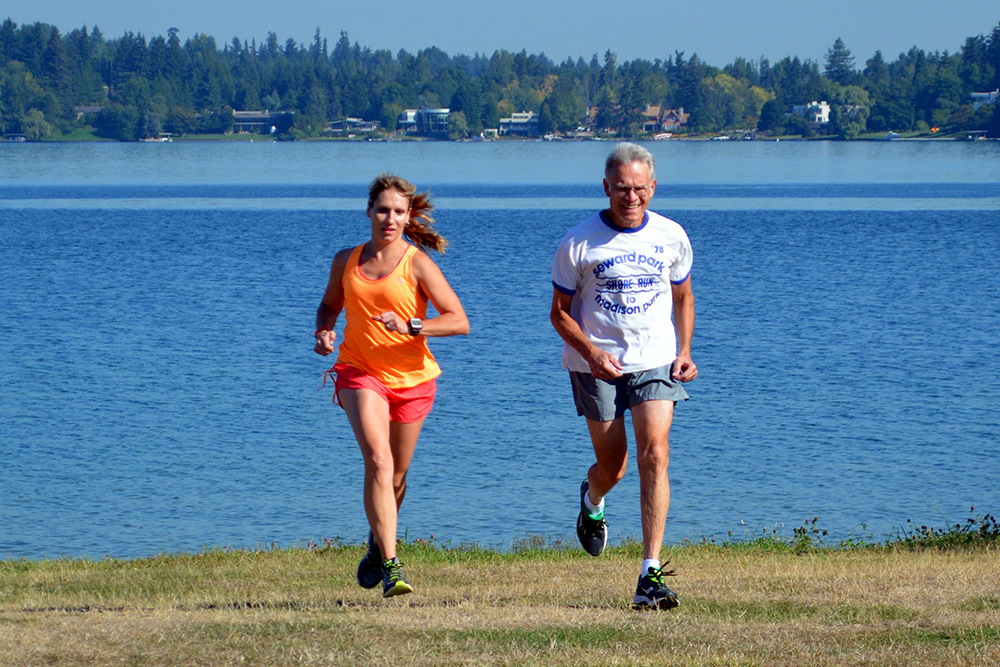 Dana: What tips do you have for other seniors who want to get in shape or try something new?
Dad: First of all, and most importantly, the health benefits from exercise come primarily from an hour or so of moderate activity done on a daily basis. (By that standard, my activity level is pretty intense. Following my lead won't work for everyone, and that's fine. Do what you can — and don't overdo it.) I'd recommend that anyone middle-aged or older consult with their primary care provider before beginning an exercise program. After that, make sure you start everything very slowly, trying a new activity no more than every other day, and never doing anything that causes soreness during or immediately after exercise. (Being a little stiff the next day is okay.) It may take months to get where you want to be, but if you're consistent and careful, you'll get there!
Dana: How do you like to exercise with friends and family?
Dad: I love swimming, running or biking with my daughters, but since they both have jobs and young children, that is only occasional. I do believe that for most people to remain fit for life, you need a peer group who does stuff with you — walking, biking, water exercise, tennis, golf, etc. Whatever you choose to do, peer pressure keeps you involved. For me, I give credit to my masters swim group, the Mercer Island Redwoods.
Dana: Do you have any events coming up?
Dad: I've been hoping to do the two-mile Swim Across America again next month, but so far it looks like the shoulders are simply not ready for that event. So I'll likely be on shore cheering on fellow Redwoods.
____________
Dana Robertson Halter is a lifelong athlete and mother of 4-year-old Cassandra and 2-year-old McKenna. Dana started swimming competitively at six, began racing triathlons after college, switched to bike racing in 2004 because triathlons were too lonely, and then went back to racing solo (marathons) after having her first child in 2009. Living LifeWise is how Dana keeps her body and brain strong – and it provides a healthy outlet for her competitive spirit. Dana works as a Communications Manager for LifeWise and lives in Ballard with her family and two Australian Shepherds.