Living LifeWise is a regular column provided by LifeWise Ambassadors – LifeWise employees whose healthy choices are helping them live better lives. Today's column is provided by LifeWise Ambassador Christopher Breunig.
I have to admit it – I am not a dedicated athlete. I have never understood the concept of a national ranking and have never shaved my legs to diminish wind resistance and improve my time. What gets me going is being active – biking with my wife, planning a hiking trip with my daughter and remaining fit enough to do all the things I want to do.
When I get on my bike or a machine at the gym, I am happy to work hard for an extended period of time. In hot yoga, I relish the 90 minute trip to the (virtual) steamy tropics and pushing myself to the limit. But even with this continued enthusiasm for being active, I recently found myself in a workout rut. While biking, I would inevitably end up on the same path, varying only the number of times I went around Mercer Island. When I found myself fuming because my preferred elliptical at the gym wasn't available – all the way in the corner, facing the window with a little ledge for my stuff – I realized it was time for a change.
WHAT IS PILATES, ANYWAY?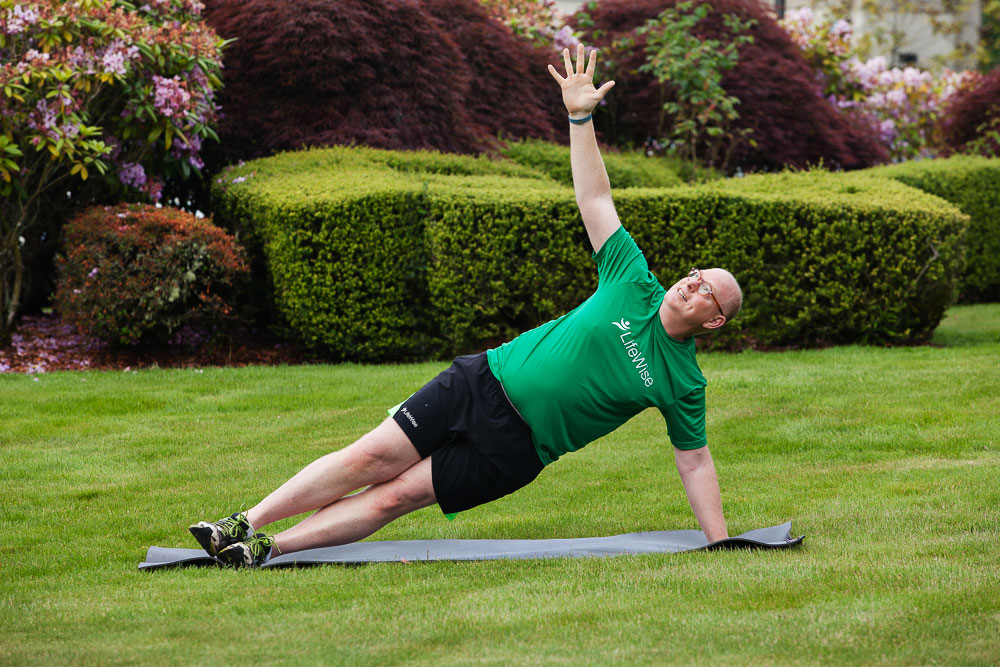 Mark, a fellow LifeWise Ambassador, had once told me about Pilates. Since the Saturday class he frequented interfered with my other rut (a particular hot yoga class), I had always dismissed the idea of joining him. I am not a dancer – neither limber nor coordinated – and Pilates has dance roots. Could I actually attend a Pilates class? I decided I would try and force myself out of my rut.
Mark took me to his Pilates class at Woodinville's Bear Creek Country Club, taught by Lexie Babbitt, owner of Pilates at Bear Creek. She is a certified Pilates instructor and did not bat an eye when this complete newbie showed up that first Saturday morning.
THE FIRST PILATES CLASS
There was a mat at Pilates which did not require any of the specialized machines I had seen at other studios. I was handed a towel and a plastic ring the size of a big dinner plate that gave to pressure a little bit, but not much. The ring was kind of an ominous device. Would I be required to balance on it? Was this a Cirque du Soleil type of class in which I would spin the ring like a hula hoop on one arm while holding some pose?
Lexie assured me I would see how to use it in due course – and followed through on that promise. She guided the class through clear and succinct descriptions – which she demonstrated – so I was always comfortable knowing what to do.

MY THOUGHTS ON PILATES
For me, the experience was physically rigorous since the poses were different than anything I had done before – very deliberate and held for longer periods than yoga. Mentally, the class was a breeze since Lexie clearly communicated the next position and counted repetitions. I wasn't good at it, but I felt fine being the total amateur in the room. As a nod to my newbie status, she told me some less strenuous modifications when they were needed. I am glad to tell you that Pilates was very enjoyable – so much so that I have been back and have added it to my workout mix. Now, it's just a matter of keeping it from becoming part of a future workout rut.
With the new season of summer soon approaching, I encourage you to try something new to expand your active repertoire.
______________
Christopher Breunig is married and father of a son and daughter in their late teen years. He lives in Bellevue and tries to serve as a good example to his kids, and sometimes as a cautionary warning.