Living LifeWise is a regular column provided by LifeWise Ambassadors – LifeWise employees whose healthy choices are helping them live better lives. Today's column is provided by LifeWise Ambassador Chris Arceo.
My name is Chris Arceo and I'm a chronic New Year's resolution breaker.
Things start out well enough. I try to get a head start by beginning my weight loss program in October, participating in diet challenges and downloading apps to track my calorie intake and workout sessions.
January begins with plenty of zeal and gusto, but after the first week or so, everything fizzles. And this has been the norm for the past few years. Between gym fees, calorie counters and support groups, my dieting tactics are expensive and haven't helped me maintain a healthy lifestyle, let alone lose the weight. Dealing with the change in how my body metabolizes calories – slowly – has been tough to swallow. It's been a hard lesson to learn, but I can no longer eat whatever I please.
I'm married with children – very busy children. My oldest is undoubtedly the fastest 9-year-old girl west of the Mississippi. My 4-year-old son is tireless with the ability to destroy everything in his path, just like the Incredible Hulk. My health-conscious wife is my best friend. All three of them are my inspiration.
That said, the combination of working full-time, driving my daughter to soccer practice, entertaining my rambunctious son and trying to find a moment or two to spend with my wife has made it very difficult to stay in shape. These commitments don't even include mowing the lawn, walking the dog, completing house projects, Brazilian jiu-jitsu, going to church, reading, sleeping – need I say more? I know I'm not alone. Everybody has to manage this juggling act in some form.
How is it different this year? Well, I no longer have an excuse not to work out. Instead of a man cave, I turned my garage into a family workout cave. It's equipped with a treadmill, compact weight machine, miniature trampoline (and not just for the kids), grappling mats and a Brazilian jiu-jitsu dummy for days I can't make it to my gym in Edmonds. And what's a workout cave without cable TV.
I'm now much more aware of the effects my behavior can have on my body, and have committed to a complete lifestyle change in order to keep me from the rollercoaster ride that begins every fall and ends in January. And I'm not alone. I'm happy to say my wife decided to join the fun and we both completed the Rock 'n' Roll Seattle half-marathon last June.


My 2014 fitness goals are to again run the Rock 'n' Roll Seattle half-marathon (this time in two hours flat) and complete another Olympic distance triathlon while keeping pace with my speedy wife. With the support of my family and my newly-built workout cave, these are two resolutions that won't fizzle out.
______________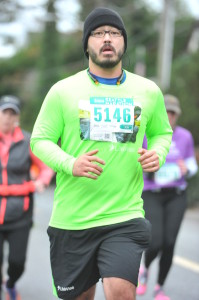 Chris Arceo, a married father of two and LifeWise systems engineer, is starting out on his fitness journey. He recently completed his first Olympic distance triathlon along with two half marathons. Chris is confident this will be the year he no longer breaks his New Year's resolutions – thanks to the inspiration of his family and his newly built workout cave.