Living LifeWise is a regular column provided by LifeWise Ambassadors — LifeWise employees whose healthy choices are helping them live better lives. Today's column is provided by LifeWise Ambassador Dana Robertson Halter.
It's May 9, 2004, in beautiful Madeira Island, Portugal. I'm representing the United States in the Triathlon World Championships in the 30–34 age group. I've already completed the mile swim in the Atlantic Ocean and the 25-mile bike portion of the race, and now I'm midway through the 6-mile run.
Crowds of spectators from all over the world are gathered along the course to cheer on the competitors. Their cheering falters when I run by, and it's not because I have Team USA emblazoned on the front of my swimsuit in huge white letters. It's because tears are streaming down my face. And most people don't know how to react when they see an athlete crying in the middle of a race.
I'm not crying tears of joy for representing my country at a world championship event. I'm not crying tears of hard work for pushing my body to its limit and beyond. No, I am crying the tears that a spoiled child cries when she doesn't get a pony for her birthday.
That's all it was: I was having a bad race, and I was feeling sorry for myself. It wasn't my best day, performance-wise, but in terms of attitude it was an all-time low.
I replayed the race in my mind non-stop for our last two days on Madeira, until my husband gently asked me to let it go so we could enjoy our vacation. For almost a week before the race, I had explored Portugal with my husband and Team USA teammates — touring the island and the race course, participating in a parade of nations and gawking at the muscles on the world's best triathletes. But after the race, I barely noticed any of the beauty around me.
I'm older and wiser now than I was then, but even the younger me knew that my pattern of racing and sulking couldn't continue. My Madeira experience proved to be my turning point — but in a way it wasn't all that unique. I went into every race wanting only to win, and when it didn't happen (which was 99 percent of the time), I beat myself up. In Madeira I took it extra hard. And all that negativity eventually forced me to question my relationship with the sport.
I firmly believe that a hobby should do three things: bring out the best in you, make you happy and contribute to your overall health and well-being. If it's not doing those things, then it's time to find a new hobby. So, in the summer of 2004, after that fateful trip to Portugal, I did my final triathlon and joined a cycling team, hoping that a team environment would turn my nasty attitude around. (Turns out, it did.)

But two kids, two dogs and four jobs later, my triathlon itch returned … and I was desperate to give it a scratch. I knew it wouldn't be easy to jump back in where I had left off. More importantly, I knew I needed to be a new kind of triathlete. So this time around, I gave myself some rigorous rules: Thank every volunteer I pass by, cheer on my fellow competitors and smile for every race photographer. If I didn't accomplish my new goals, I promised my husband I'd sell my triathlon bike and give up on triathlons for good.
Thankfully, I've made good on my word.
Since my return to the sport, I have done four triathlons. Two of them went well, and I was proud of my results; two of them didn't go so well. But in both cases, I thanked volunteers, cheered on my fellow racers and smiled so much my face hurt. I wanted my two little girls to see their mom working hard for something first and enjoying the thrill of competition second. And I wanted them to see me smiling all the way through.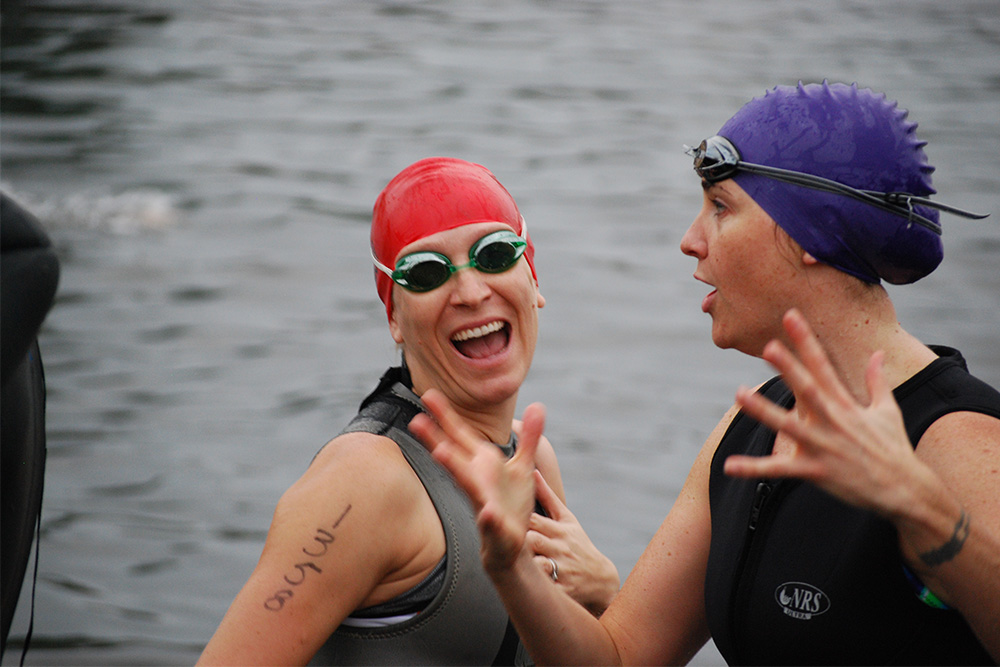 I have learned that with a positive attitude, triathlons are a lot more fun. Today, I'm being the example my kids deserve, and I'm actually enjoying the races.
Oh, and one final benefit? The smiley triathlete is faster than the cranky one.
____________
Dana Robertson Halter is a lifelong athlete and mother of 5-year-old Cassandra and 3-year-old McKenna. Dana started swimming competitively at six, began racing triathlons after college, switched to bike racing in 2004 because triathlons were too lonely, and then went back to racing solo (marathons) after having her first child in 2009. Living LifeWise is how Dana keeps her body and brain strong — and it provides a healthy outlet for her competitive spirit. Dana works as a Communications Manager for LifeWise and lives in Ballard with her family and two Australian Shepherds.