Living LifeWise is a regular column provided by LifeWise Ambassadors – LifeWise employees whose healthy choices are helping them live better lives. Today's column is provided by LifeWise Ambassador Chris Arceo.
In April I took a new position at work, which meant I had to move office buildings. My new building is somewhat separate from the rest of campus and it has the least amount of parking spots. Often I'll park in another lot and walk a quarter of a mile to my office door. It takes a while, and I hate to say it, but for a while I was eager to find a quicker way to get from point A to point B.
You see, I live just seven miles north of where I work. But due to traffic and my family's morning routine, my commute takes me around an hour. By the time I arrive, I'm usually flustered and ready to start my workday—not to take a short hike.
Therefore, I experimented with some different solutions to cover that last leg of my morning commute. Read on for my experience testing a body-powered stand-up roadster, a folding bike, a Solowheel and a scooter.
Trikke T12 Roadster

The T12 Roadster is a three-wheeled stand-up body-powered vehicle that uses a complex leaning/swerving motion to get moving—almost like slalom skiing. It is said to reach speeds of up to 20 miles per hour on flat ground, and therefore I was psyched for it to provide quick transport from car to desk (while also providing a quick workout). Unfortunately, I never quite figured out how to get the thing moving at all, let alone quickly. So for me, walking was still superior.
Kent Folding Bike
The folding bike is another small but useful form of transportation. But for the short distance I was traveling, it didn't pay off. The time it took me to unfold the bike, ride it and fold it up again was just about equal to the time it took to do the whole thing on foot.
Go Motorboard scooter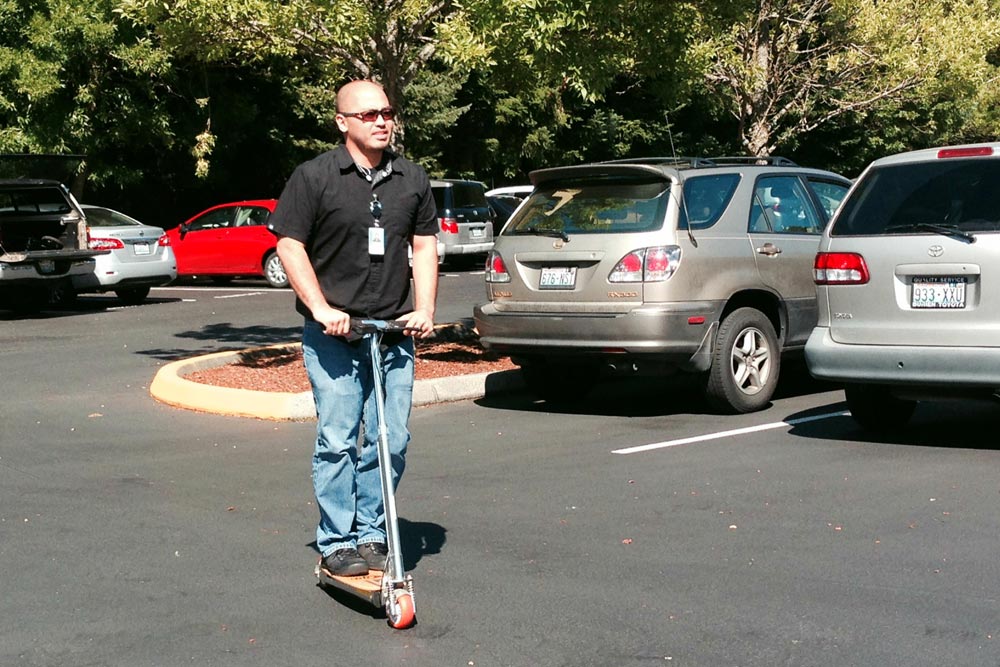 This little electric scooter is compact, sleek and affordable. (An earlier post about my garage workout cave makes it clear how frugality is important to me.) It was my favorite of all of the short-distance forms transportation I tested. But, alas, no exercise on this one.
Solowheel
The next best thing to a Segway is the Solowheel—a compact, self-balancing unicycle. Overall it seems very cool. I don't actually know, though, because I never actually had the chance to test it. But if I did, I'm sure I would be the talk of the parking lot.
So where did I end up? Back where I started: my legs! I wasn't crazy about it at first, but as it turns out, walking has ultimately been the most convenient (and stress-free) way I have found to get around. No gear, no tricks to making it work, cheap as can be—and plenty healthy.
To walk or not to walk? At first I thought not. But now I choose to walk.
______________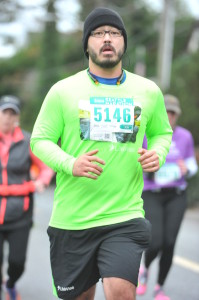 Chris Arceo, a married father of two and LifeWise systems engineer, is starting out on his fitness journey. He recently completed his first Olympic distance triathlon along with two half marathons. Chris is confident this will be the year he no longer breaks his New Year's resolutions – thanks to the inspiration of his family and his newly built workout cave.