From company bike rides and planking contests to daily catered meals and sponsored 5Ks, Washington companies are stepping up their game and revamping their employee wellness and benefits strategy to attract and retain talent.
And we think it's pretty awesome.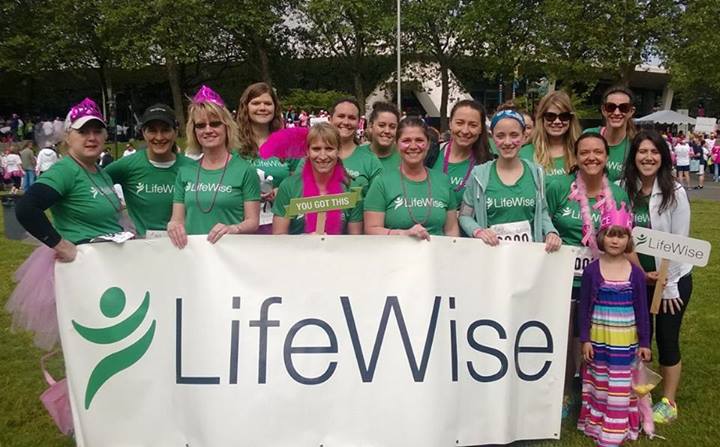 While traditional perks such as 401(k) matching and yearly bonuses still have their place, employees and employers across the nation are moving towards a new model of employee engagement – one that prioritizes health and holistic well-being and engaging employees in their work, health and personal passions.
Here are a few of our favorite healthy perks at companies in the greater Seattle area.
Has Offers – Seattle, Wash.
This Seattle-based tech startup hired their very own Perks and Recreation Director to lead a full program of perks to inspire cross-team collaboration. To start, employees are offered three healthy meals a day prepared by in-house chefs. But it doesn't stop there. Employees can take part in twice-weekly yoga classes or weekly team bike rides, as well as hiking and ski trips, rock climbing excursions and more.
LifeWise Washington – Mountlake Terrace, Wash.
As a health plan provider, LifeWise (sponsor of Actively Northwest) makes it a priority to keep their employees healthy by giving discounts to local gyms and studios, as well as offering on-site farmers markets and an annual health and wellness fair. The company also provides on-site vaccinations, mammography and biometric clinics. For employees looking to up their cooking game, LifeWise hosts Healthy Cooking Classes, Lunch and Learns and Ask the Nutritionist Webinars in partnership with Guckenheimer.

To help motivate healthy habits, the company formed a group of LifeWise Ambassadors – a group of inspiring LifeWise employees who motivate others at the company and beyond by sharing their personal health stories. You can read about their individual health journeys – from living with Crohn's disease to training for a 15K and even just taking time for daily meditation – right here on Actively Northwest. LifeWise Ambassadors embed themselves into the local community as well – participating and cheering on the sidelines for company-sponsored events like Beat the Bridge, Girls on the Run, the Adidas Shamrock Run and more.
For members, LifeWise offers healthy perks as well. They partnered with Vivacity to offer discounts and services offered through the popular EveryMove app to members who track their activities.
Limeade – Bellevue, Wash.
With a mission to create happy and healthy employees nationwide, it shouldn't be a surprise that Limeade takes their own employees' health very seriously. For starters, they use their internal wellness program as a testing ground for clients by trying out of the box wellness ideas – from challenging employees to watch TED talks to creating team planking and push-up contests. Additional health and wellness perks include company-sponsored ski days, hiking trips, flexible hours and a culture committed to having walking meetings whenever possible. The result? Employees are motivated to collaborate across teams, push each other to accomplish goals and share personal passions that spark creativity in the office.

Expedia – Bellevue, Wash.
The 2013 winner of Corporate Champion Award for the Health & Wellness, Expedia includes the entire community in their wellness strategy – with a strong focus on local philanthropy. As part of the Expedia Cares program, donations to nonprofits are matched up to $3,000 a year, and employees participate in the company's annual Global Day of Caring to give back to the community. Expedia also offers an internal wellness initiative – the Go! Program – which supports employees' personal health goals. And – of course – we couldn't forget about travel discounts. Employees get to take advantage of awesome discounts to plan their own adventures.
Does your Northwest company offer fun health and wellness perks? We'd love to hear about them in the comments below.
Disclosure: Jori Saeger is an employee at Limeade.
Limeade photo courtesy of Daniel Nelson.