Living LifeWise is a regular column provided by LifeWise Ambassadors – LifeWise employees whose healthy choices are helping them live better lives. Today's column is provided by LifeWise Ambassador Johanna Dokken.
It's hard not to get excited about a snow trek. There's nothing like getting away from the bustle of the city and heading up to the nearby Pacific Northwest mountains for a day on the trails. It's like magic when you reach the snowcapped forest and begin exploring, serenely taking in the day while you crunch through the fluffy, powdery snow.
Last year, I figured out how to enjoy a day of snow venturing with the kids in tow: Cozy them up with toys and plenty of snacks in our bike trailer turned ski buggy, then strap on the snowshoes or cross-country skis and hit the trail. This year, with my daughter nearing age 7, the excitement has been building for her to graduate from the ski buggy and join the big kids on the trek.


Our winter weather has been pretty stingy thus far, so she didn't get the full impact of fresh soft powder when we set out for our first snowshoe of the season last weekend. But it still sparked her delight in being out and about, finally part of the exploration.
After a helpful check-in on the conditions at the forest information center (and to appease my avalanche paranoia), we set out on the Gold Creek Pond trail, a one-mile loop off Exit 54 near Snoqualmie Pass.


It turned out to be an excellent fit for my daughter. There were other kids on the trail to keep her interest, and I kept her engaged and motivated with frequent stops to have a snack (including hot cocoa – of course), make snow balls and look for icicles. She also appreciated the view of the mountain vistas that surrounded the trail and was fascinated by the frozen pond, quite determined to see how far her snowballs could be flung to skid across the ice. She managed the snowshoes well given the hard, packed trail, and the flat, one-mile distance was a nice duration. By the end, she still had energy to do some sledding at a nearby un-groomed recreation area.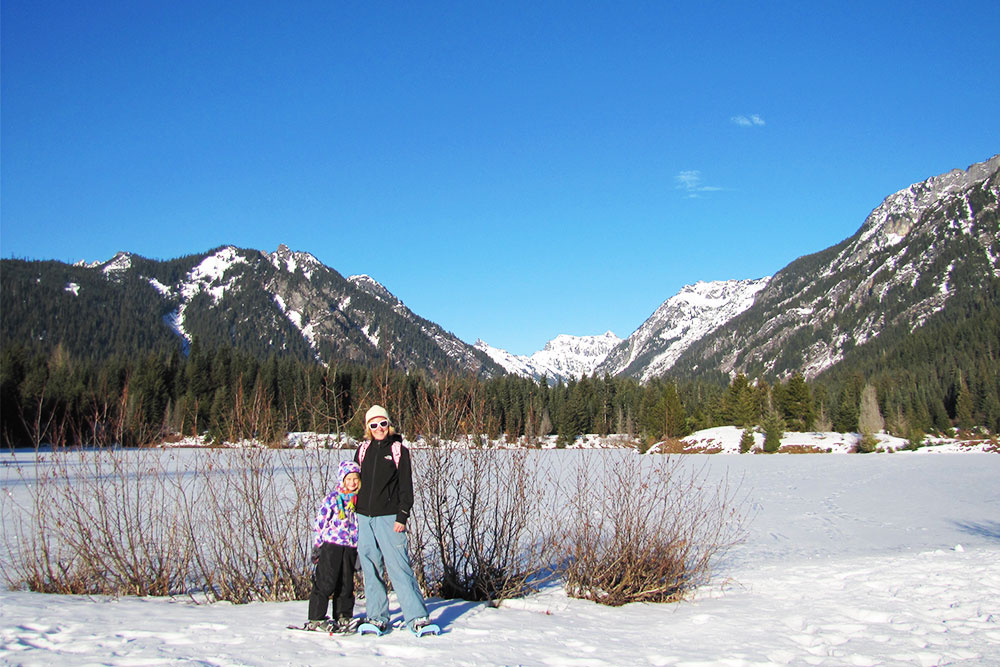 For her, the snowshoe adventure was a chance for her to find a sense of independence, and discover her own ways of enjoying the snow. For myself, I experienced a "Mommy Moment" upon realizing how her growing independence has matured my attitude and patience. It was a chance for me to discover that these activities aren't about my daughter keeping up with the adult pace and wintry workout agenda. Instead, it's a time to let her unwind and find joy in small and preciously frozen ways.
It was a great time for all of us. We'll be back!
________________
Johanna Dokken is a former college swimmer and mom of two, looking to make health and fitness a higher priority. Her inspiration to lead a more active and healthy life comes from her family's history of diabetes and heart issues, as well as a personal brush with cancer as a teenager. She loves the personal empowerment, stress relief and community of training and pursuing outdoor activities.