Our Health in Action series profiles people in the community who are living Actively Northwest. Follow along each week as we profile new people who are committed to living active, healthy lives through fitness and food.

In 2009, a passionate group of women banded together for a few simple reasons: to raise money for charity, ride mountain bikes and connect women riders from all around the Northwest. Five years later, the members of the Sturdy B*tch Racing team have raised over $29,000 for philanthropy and have participated in over 300 races – and of course, had an awesome time doing it.
Photo courtesy of Paul Tohil.
So what does it take to be part of this Seattle, Washington-based socially-conscious and supportive mountain bike team? Read on to find out.
ANW: Tell us more about Sturdy B*tch Racing and your upcoming event.
SBR: We are a small yet proactive all-women's mountain bike team with roots in the Evergreen Mountain Bike Alliance and the Team LUNA Chix program. Our four current team members – Ady  Bee Lane, Katie Jackson, Angela Sucich and Julie Crittenden – compete in a range of racing disciplines, from cross-country to downhill and enduro racing, in both local and national events.
Since we're a small and dedicated team, we've been extra motivated to step up and get things done. This year we are putting on the first women-specific enduro race in Washington, the Sturdy Dirty Enduro. The June 14 race features timed segments, transition sections and aid stations manned by costumed volunteers, giving new racers a chance to try out enduro racing in a low pressure, supportive and fun environment on a course that can still challenge the pros.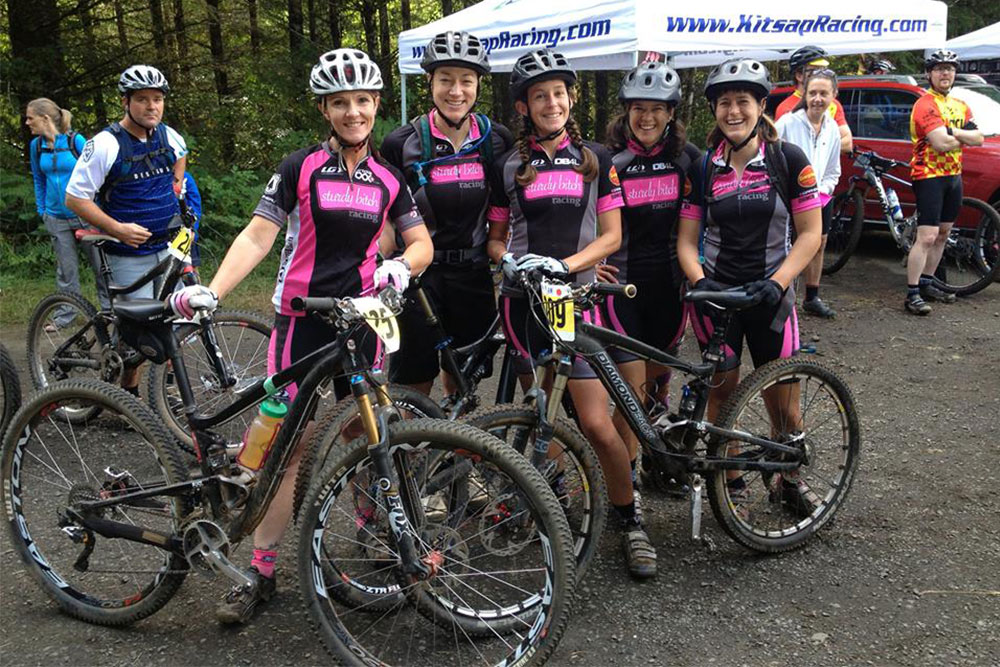 ANW: What is the team's favorite ways to stay connected to the Northwest community?
SBR: Beyond raising money for the Breast Cancer Fund, we regularly lead beginner and intermediate women's rides, and we volunteer for trail work parties with organizations like Evergreen Mountain Bike Alliance and Friends of Capitol Forest.
ANW: What are your favorite bike trails in the Northwest?
Ady: Tiger Mountain in Issaquah, Washington; Capitol Forest in Olympia; and in British Columbia, the Whistler Mountain Bike Park and anything in Squamish.
Katie: Capitol Forest in Olympia; Half Nelson in Squamish; Duthie Hill in Issaquah; and Dry Hill in Port Angeles, Washington.
Angela: The Forbidden Plateau trails in Cumberland, British Columbia; Powerhouse Plunge in Squamish; and Kachess Ridge in Easton, Washington.
Julie: Palisades/Highway 410 in Greenwater, Washington; the Black Diamond trails in Black Diamond, Washington; and the Dirt Merchant to A-Line trail in the Whistler Mountain Bike Park in British Columbia.
ANW: What workouts does the team do to prepare for races? 
SBR: To train for the 7-day BC Bike Race, our team combined monthly 30 to 40 mile rides with  shorter weekly laps (around 20 miles) at Tiger Mountain or Grand Ride leading up to the race. The idea is to alternate your distance and intensity levels during training to make sure you have the endurance, power and speed needed on race day. Recovery days are also important!
One of our favorite training rides in Bellingham, Washington incorporates a single-track from Galbraith Mountain to Lake Padden to the Chuckanut Mountains and back. We believe the key to getting in race shape is to ride with other people and keep it fun.
Photo courtesy of Julie Crittenden.
ANW: Do you have any tips for people who want to start mountain biking?
SBR: The Northwest is blessed with great parks like Duthie Hill Mountain Bike Park which has a fabulous skills center and progressive trails. You can also take formal mountain bike skills classes offered by local organizations, or join us for our beginner rides offered throughout the year.
Here are a few tips every new mountain biker should keep in mind:
1. Make sure you have good, tuned-up gear. Mountain bike and helmet are mandatory; knee and elbow pads are optional.
2. Don't be afraid to walk any section. Whether it's a new feature or you're just not feeling the trail, there's no shame in saving it for another day.
3. Remember, it's supposed to be fun. Don't worry about slowing people down or keeping up with other riders — that can take the fun out of mountain biking. Just have fun during your ride.
ANW: How can someone get involved with your team?
SBR: Come out to the Sturdy Dirty Enduro! Whether you want to race, volunteer or cheer on the sidelines, we would love your support. You can also join us for Sturdy B*tch Racing rides, which we post on our website, Facebook group page (just ask to join) and the Evergreen Mountain Bike Alliance calendar.
Header photo courtesy of Angela Sucich.