Our Health in Action series profiles people in the community who are living Actively Northwest. Follow along each week as we profile new people who are committed to living active, healthy lives through fitness and food. 
After retiring from pro cheerleading, Lauren Mack transitioned from a regimen of strict diet and exercise to a more relaxed approach. With a family and busy schedule to juggle, she is proud of the healthy habits she's formed and incorporated into everyday life.
Now as an executive producer at a creative advertising firm, assistant director of her former cheer squad and a full-time mom, Lauren has found new, simple ways to keep her body moving.
ANW: What motivates you to stay active and eat healthy, now that you're no longer a pro cheerleader?
Lauren: In the first few months after my last season, it took a while to find balance. I was used to pushing myself with lots of exercise and watching my diet carefully, so I decided to take a break. I didn't exercise and ate whatever my heart desired. What I found is that living at either end of the spectrum isn't sustainable and doesn't feel good. Today, I'm motivated by keeping my energy high, feeling comfortable in my own skin, and just being happy.
ANW: What are some of your favorite ways to exercise?
Lauren: I love to dance and will always be a cheerleader at heart. Now I attend Barre classes or sometimes even just take a walk outside. Now that I'm a working mom, I don't have as much time to attend classes, so I exercise at home using workout DVDs. I exercise three to four days per week and try to be as active as possible every day.
A few months ago, my husband and I joined a group of friends to do Insanity, a home DVD workout program. Even though we all worked out in different places, it was motivating knowing that your friends were also doing the same crazy exercises every day.
ANW: Congratulations on your pregnancy! Does your fitness routine differ when you have a baby on the way?
Lauren: We're thrilled to have our second child on the way. Being pregnant, I've focused on lower impact workouts like Tracy Anderson: The Pregnancy Project DVDs and Barre class. I also use the elliptical trainer when I can make it to the gym.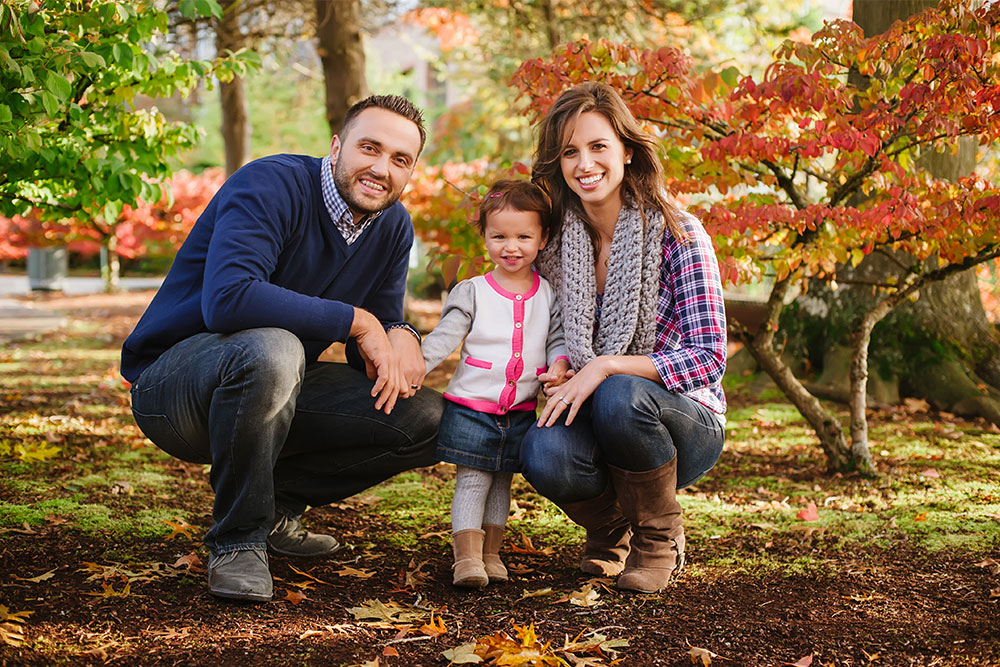 Photo courtesy of Amanda Kay Photography
ANW: Finding time to exercise when you have family, work and everything in between can be difficult. Can you share tips for busy mothers and fathers who want to be more active?
Lauren: Find workout DVDs you like and commit to doing them at home! Then find the best niche in your day. Before the kids get up? After they go to bed? A little tip I've found that makes exercising at home more bearable is playing your own music while the DVD plays. It can be hard to get motivated with the couch and your favorite TV show on the DVR, but you'll feel so charged the next day.
If it's a busier than normal week, make sure you're active on both Saturday and Sunday. That way you only have one or two more workouts to squeeze in during the week.
ANW: What is your overall approach to living a healthy life?
Lauren: I believe it's important to develop a balanced mindset about health. As a dancer, I tried every diet in the book, and my weight fluctuated over the years. My outlook was changed a few years ago by Dr. Mark Adams, a great health mentor and founder of ONVO in Bellevue, Wash. I try my best to live by the principles he introduced me to: Eat real (unprocessed) food, listen to your body by eating only when you're hungry and be active because our bodies are made to move. There's no magic formula – it's pretty simple.
My favorite fitness quote is "No matter how slow you go, you are still lapping everybody on the couch." So what are you waiting for? Get a move on!