Living LifeWise is a regular column provided by LifeWise Ambassadors – LifeWise employees whose healthy choices are helping them live better lives. Today's column is provided by LifeWise Ambassador Christopher Breunig. 
On March 16, I will take part in my first 5K race in the largest running and walking event in Oregon, the Adidas Shamrock Run. Well, to be honest, it's my first 5K in several years, but it feels like I'm starting all over again.
Throughout my life, I have regularly incorporated running into my exercise regimen, but never referred to myself as a "runner." I've finished a full marathon (albeit 30 years ago), a handful of half marathons, some 10Ks and other miscellaneous races, but calling myself a "runner" is something I never did.
Maybe it's because running has never been my sole form of exercise. Or maybe it's because my ancestors pushed plows rather than running messages long distances. Whatever it is, I'm not a natural "runner."
A year ago I had a flare up of jogger's heel and have been nursing foot pain ever since. When the injury first happened, I thought my running and hiking days were over, but I thankfully listened to my physical therapist's orders and stayed off it. I turned to the elliptical trainer, cycling – anything but running – and now my foot seems to have healed, although I still have to be careful.
Now that I'm finally ready to get out and run again, I will take on my first comeback race in Portland.
I have already started preparing (carefully), following several 5K training guides to make sure I stay injury-free. Key changes I've made to my training include taking the time to stretch, starting slow, icing (as needed) after exercise and listening to my body.
Is there something you used to do that you want to try again? Of course I'm not talking about returning to "glory days," but if you stopped some activity because of an injury or other reason there's no reason you can't get back to it.
This is how I charted my course to begin again. How will you approach yours?
______________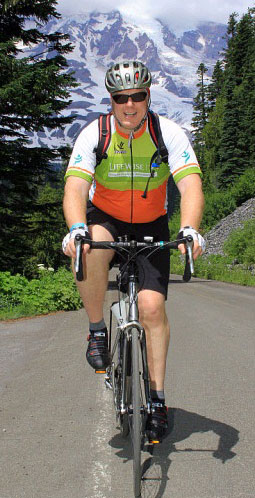 Christopher Breunig is married and father of a son and daughter in their late teen years. He lives in Bellevue and tries to serve as a good example to his kids, and sometimes as a cautionary warning.