When you're on the road, hotel rooms, time changes and long workdays make it easy to skip out on your regular workout routine. But just because you can't access your favorite running route or local gym doesn't mean you should stop being active.
Have a laptop or tablet and internet access? Here are five sites to bookmark that offer fun, full-body workouts that suit your schedule and fitness needs. String them together for a longer workout if you have the time, or choose one to get your blood pumping in the morning. Trust us – your body will thank you!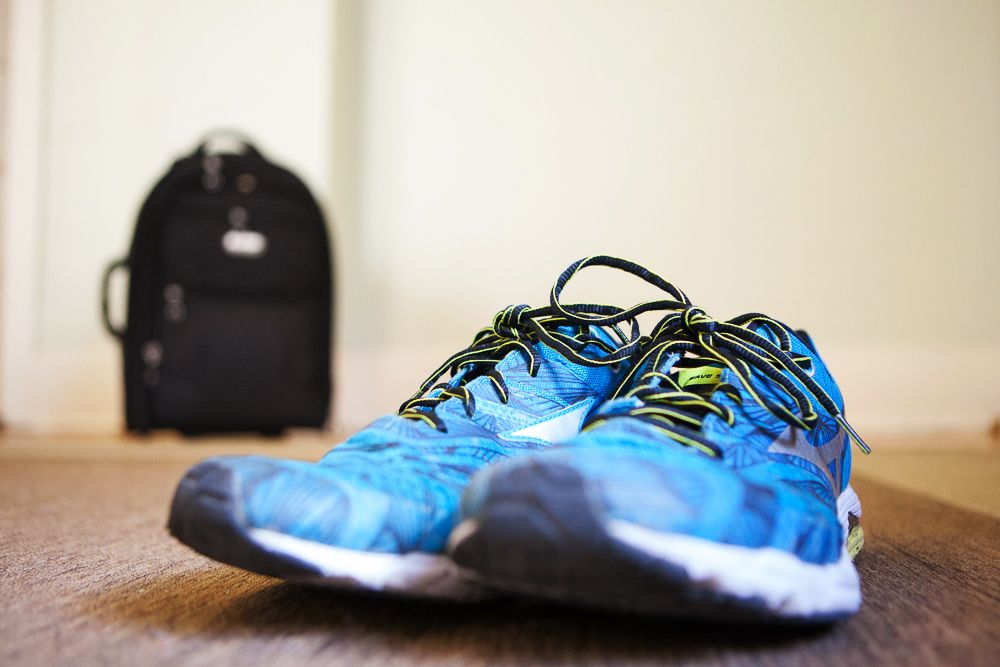 1. Tone up with a barre workout like World Champion swimmer Ariana Kukors
It may be harder to attend your favorite barre class while traveling, but that doesn't mean you can't sneak in a few moves to help you stay toned. Check out some moves from The Bar Method for a full-body workout.
2. Workout with a virtual personal trainer on Fitsugar
If you want a heart-pumping, sweat-dripping session, browse the Class Fitsugar video gallery, where you'll find dozens of workout videos for anywhere from 10 to 40-minute sessions. The best part? Most require no equipment at all and can be modified for any fitness level.
Videos to try:
Just Starting Out: To get your body moving, start with this fun toning series.
Fitness Buff: For a difficult CrossFit-style workout, try this ten-minute body weight circuit.
Core Enthusiast: Get those abs in check with this ten-minute core sequence.
3. Crank up the tunes for a Zumba party in your hotel room
Break a sweat and have fun by following Zumba routines to your favorite hit songs.
Video to try: To start off, get a thigh-burning workout with this routine to Lorde's "Royals." You'll be amazed at how much your legs will burn after only three minutes.
4. Pump up the intensity with a work out with Fitness Blender
For a more traditional gym workout, look no further than Fitness Blender. The site offers hundreds of videos, from fifteen-minute stretching sequences to a forty-minute kettle bell workouts. Each video gives you an overview on total calories burned, length, difficulty, body focus and an overview of equipment needed so you'll know exactly what you're getting yourself into before you press play.
Video to try: To get a cardio kick with lower-body toning exercises, start with this butt and thigh workout.
5. Relax at the end of a hard day with Do Yoga With Me
Nervous that you'll wake up your neighbors with jump squats and loud music? Try a relaxing yoga video. On the Do Yoga With Me website you'll find a full library of yoga classes sortable by length, difficulty and style. Classes have fun names like Happy Hamstrings and Heavenly Hips, and are filmed in beautiful beach and mountain locations to help transport you to a tropical location.
Video to try: To wind down at the end of the day, try this beginner Daytime Restorative Flow class.
Do you have any favorite websites to stream workouts on the go? We'd love to hear about them in the comments below.