What better way to honor mom than whipping up a delicious and healthy Mother's Day brunch? Here are two seasonal recipes – one savory, one sweet – that are guaranteed to impress mom while keeping her healthy lifestyle on track.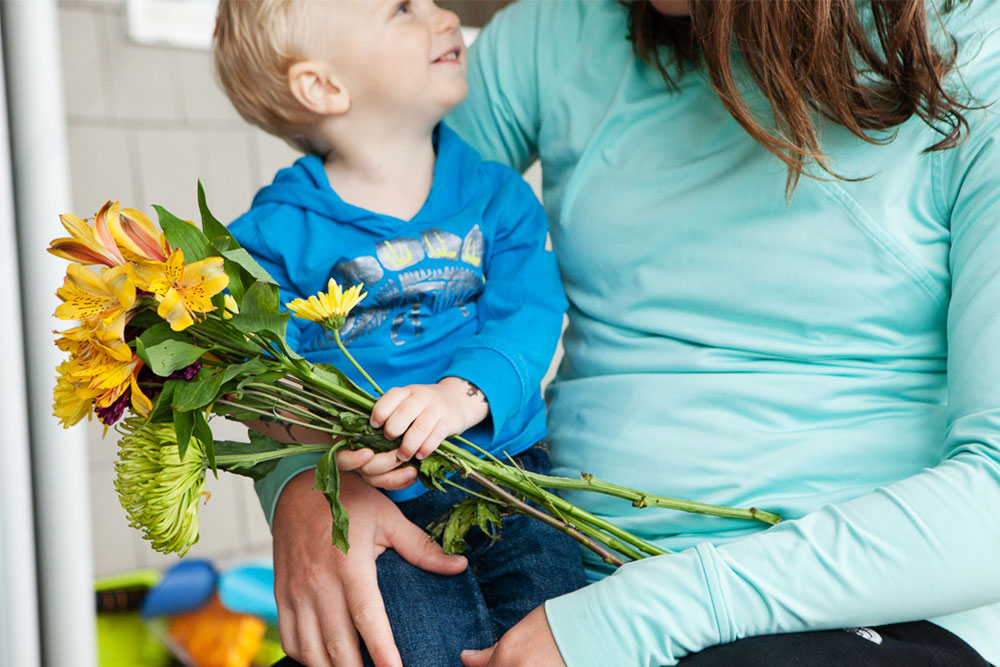 Northwest Eggs Benedict with Smoked Salmon and Asparagus
This gourmet twist on eggs benedict uses local asparagus and smoked salmon to turn a classic dish into something special for mom. Instead of a butter-based hollandaise sauce, this recipe uses Greek yogurt to provide the same creaminess with far fewer calories and fat.
Ingredients:
3/4 cup fat-free Greek yogurt
4 eggs and 2 additional egg yolks
Juice of half a lemon
1/2 teaspoon Dijon mustard
1 tablespoon chopped fresh herbs of choice (dill, tarragon or chives)
1/4 teaspoon kosher salt
Ground pepper to taste
2 whole grain English muffins
4 slices of smoked salmon or lox
4 eggs
2 tablespoons white vinegar
8 spears medium-thick asparagus, cut into 3-inch lengths
Directions:
To make the hollandaise sauce: Whisk together the egg yolks, lemon juice, mustard and yogurt in a heatproof bowl. Set over a saucepan of barely simmering water and cook for about 12 to 15 minutes, stirring constantly, until thickened. Remove from heat, stir in the herbs, and season with pepper.
To cook the asparagus and eggs: Fill a wide-mouthed pot with 2 inches of water and bring to a low simmer over medium heat. Add asparagus and simmer for 2 minutes, remove and drain on paper towels. Return water to a simmer, add vinegar and stir in a circular motion. Crack each egg into a small bowl, then, one at a time, gently pour each egg into the simmering water. Cook 4-5 minutes (longer if you prefer firmer yolks). Remove with a slotted spoon to dry paper towels.
To assemble: Toast each muffin half, then top with asparagus, smoked salmon, a poached egg and a dollop of hollandaise sauce. Garnish with additional herbs and a grind of black pepper. Makes 4 Servings.
Puffed Oven Pancake with Strawberry Rhubarb Compote
This puffy oven pancake is often called a "Dutch Baby." Served with local rhubarb and strawberries, our "Northwest Baby" is a perfect dish to make for your Northwest mom.
Ingredients:
3 large eggs
1/2 cup all-purpose flour
1/2 cup low-fat milk
1/4 teaspoon kosher salt
1/2 teaspoon vanilla extract
1 tablespoon unsalted butter
2 cups sliced rhubarb
2 cups sliced fresh strawberries
1/2 cup local honey
1/4 cup water
Juice and zest of 1 lemon
Confectioner's sugar (optional)
Directions:
To make sauce: Heat rhubarb, water and honey in a medium saucepan over medium heat. Gently simmer, stirring often, for 5 minutes until rhubarb is soft. Add strawberries and cook 1 minute longer. Remove from heat, then stir in lemon juice and zest.
To make pancake: Heat oven to 400 degrees. In a blender, combine eggs, flour, milk, salt and vanilla and blend on high for one minute.
Add the butter to a large cast-iron skillet and place in the hot oven. Once the skillet is hot, pour in the batter and immediately place back into the oven. Bake until the pancake is puffed and golden, about 15 minutes.
The pancake will collapse slightly as it cools, but that's okay! Cut into wedges and serve with the rhubarb compote and a light dusting of confectioner's sugar